---
van Awful wrote:

My own project was building a VC army out of other races left over units, give 'm some headswaps and ghoulish paintjob and bob's your uncle

So what I got so far:

Dire wolfs; Old chaos hounds, and if need be (o&G)wolfs.


LOTR Wargs make really great dire wolves - just paint them black, give them a quick drybrush of grey and red eyes and they look really great. I'll link my VC painting log at the end of this post so you can check out some of my VC conversions and WiP stuff


van Awful wrote:

zombies: this just going to be mix of night goblins, empire, skaven and bretonian infantry.

Twilight Creations do a dirt-cheap bag of 100 zombies;
https://www.amazon.co.uk/Twilight-Creat ... G97TEFC620
These are 25mm scale (1:72 truescale) so they'll look a bit small when stood next to GW minis, but you can get away with it to some extent if you use them as unit filler and raise them up on their bases. They're not great and the detail isn't great but they are really, really cheap. They're also a softer plastic so they're a bit tougher to paint (wash them thoroughly first and use a good primer)



van Awful wrote:

black knights; bret and empire knights

I used some necron warriors mounted on TK skeleton horses and made cloaks / barding from aluminium foil. I haven't put the pics up of those yet. I should get around to doing that one of these days as they look pretty cool



van Awful wrote:

Hexwraiths: Centigors

If you're going the centaur route with these (which is a damn cool idea I think) rather than the mounted wraith method, then check out my Slaaneshi Centigors - these were converted from beastmen Ungors and LOTR horses;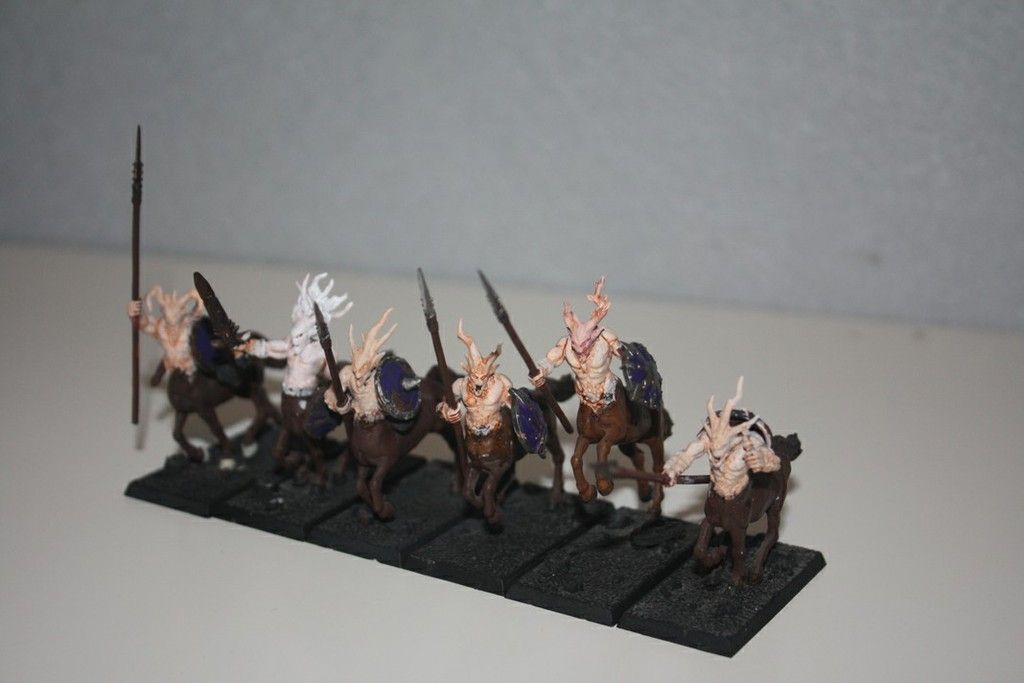 You could take a skeleton and graft it onto a skeletal steed in much the same way
van Awful wrote:

Necromancer; Shamans from night goblins and beastmen, maybe a human aswell.

Check out my VC plog for some nice necromancer conversions
van Awful wrote:

Vampire; dark elf corsaIr and a knight and
i got the old aldenbrand ludenhof model. he seems good vampire material.

Yeah agreed. I used a few Wargames Foundry minis for my vamps but there are endless vampire minis out there. Undead armies are easy to do because every company has great ranges of undead minis. Blacktree Designs have some really cool undead stuff - http://eoeorbisuk.com/


van Awful wrote:

Corpse cart:

grail relique

This is one of the tougher models to convert / scratchbuild, because although the cart is a straightforward build (lolly stick base and semi-snapped toothpicks for the ribs), the corpse pile on it will take a bit of work. Not impossible, but tricky to do well. If I was going to scratchbuild one of these carts (which I'm not, as I have two already - one from the VC battalion box and one bought seperately), then I would make the corpse pile by arranging a bunch of minis into a pile (possibly holding them together with blue-tack) and make a mould from it using blue stuff or maybe a two-part moulding putty (I've used Siligum for this in the past, but it can be tricky to find locally (although you can find it online easy enough) and expensive. Blue stuff is also not that cheap and it is tougher to use as you need to heat it up in hot water and press it onto the model before it cools down, but it does have the advantage that it's reusable - just re-melt it and go again. You can also do this with hot glue but it's messier to melt (tends to stick to the side of the pan you're heating the water in) and is harder to remove from the model once it cools down. Once you have a mould, you can cast the part in all sorts of materials from fibreglass resin to hot glue, 5-minute epoxy or even paper mache or salt dough. In fact salt dough is a great medium because it's really cheap (though hard to make in small quantities) and sets as hard as concrete. The downside is that it's really heavy.


van Awful wrote:

black coach:

miner cart dwarfs ?

Check out my Black Coach (in my VC plog) as it's pretty much all scratchbuilt (aside from the wheels and the horses)


van Awful wrote:

Coven throne/mortis engine:

both myself and my mum's bf/husband (my step-father? - that sounds weird as he's only two years older than me LOL) are both working on scratchbuilds of this model. He will probably get there first as he has a little bit more time than I do, but one way or another, once we have one, I'll be the one painting it then I'll add it to my VC plog (as I play Lahmian VC, mine will undoubtedly be the Coven Throne rather than the Mortis Engine)


van Awful wrote:

Fellbats FLYING SQUIGS

batswarms

abysal terror a griffon or manticore


For my Fell Bats I used old metal DE Harpies and painted them to look like the ones in Van Helsing. My bat swarms are just normal VC bats (metal again, as they're really old) but I mounted them on longer wires to make them more dynamic looking. The bases were resin and bought on ebay. They have lots of cool detail but also lots of air bubbles and other cating defects. If I knew before I bought them how crappy they were going to be once they arrived, I would have made my own from scratch. You get what you pay for I guess...

But yeah, VC have infinite possibilities, especially if you're prepared to go outside of GW for your parts (I know that GW have a bad reputation for being overtly anal about conversions and scratchbuilds, but I don't play in store or in tournaments anyway so for me their attitude isn't a problem. For other people it might be, so feel free to ignore any or all of my suggestions, GW or otherwise, and above all, have fun


My VC painting log;
viewtopic.php?f=9&t=77319