---
Lost Colony vs. High Elves (1000 pts)

First of all, I would like to thank my opponent for lending me his cavalry. It was only his generosity which allowed us to play this gigantic battle.

I should probably warn in advance that we both made some rules mistakes which might have influenced the game significantly.

Lost Colony
sorceress lvl 2, light, ruby ring of rhuin, shrieking blade, opal amulet
20 warriors, FCG, standard of discipline: 225
10 witch elves, musician, standard: 130
5 shades, ahw: 90
5 harpies: 75
5 cold one knights, FCG, gleaming pennant: 185
5 warlocks: 125



High Elves (approximative)


loremaster
12 swordmasters
2x 12 archers, musician
frost phoenix
lion chariot of chrace

This list is a logical step forward from what I played at 500 points with the old AB. The cavalry units add even more mobility and a lot of punch to it, while I have not the feeling of being cavalry-heavy.
What deserves some comments is the choice of magic lore. Originally, I wanted to go for dark with tome of furion - both word of pain and doombolt are awesome spells. But I was pointed out that all of my spells would then be quite expensive for a level 2. Additionally I realized that I would be too tempted to just throw two doombolts every turn. While they are potent, obliterating whole units with magic (or shooting if you have an unmaneuverable gunline) feels boring and does not help me much with learning. Light won for its good number of cheap and useful spells.

Back to the battle: the only thing I really feared in the high elven army was the phoenix. Other than that, the archers can be attacked by something fast or shot down with magic or shades, swordmasters strike after witch elves and are not that heavily armoured and the chariot can hardly do much on its own. But a flying monster with T6, S6, terror and stomp is a dangerous foe. The good part is that such a monster is expensive, too, and the opponent is probably going to great lengths to protect it.



Deployment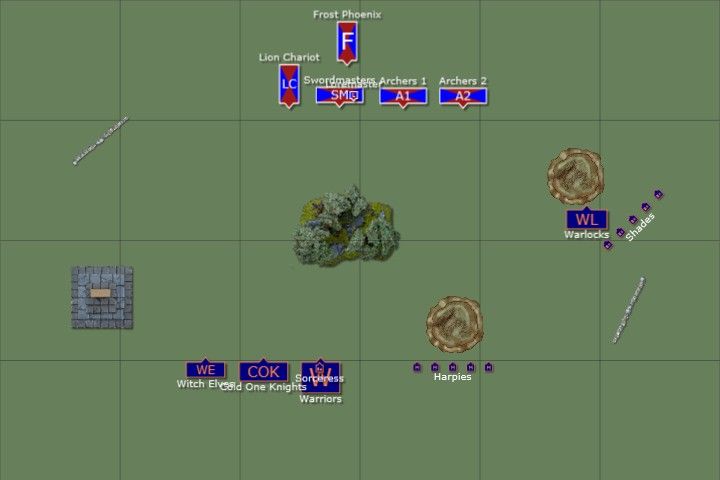 He started with his archers, followed by swordmasters and chariot. I placed harpies and warlocks near his archers to allow them a swift attack on them and put the cold one knights centrally so that they could threaten with a charge against the chariot. I placed the witch elves a bit too early and they did not end up directly across the swordmasters as I had originally hoped, but they were still close enough. I was a bit surprised the phoenix hid behind high elven line, I have expected it to go on a flank. But it made little difference, anyway. Sorceress went with my spearmen, loremaster with the swordmasters, no surprises here.
Having learned from past experiences, I hid the shades behind a hill to protect them from being blown away by a fireball before they even get to shoot. I left there enough space for my warlocks, too, who rode there using their vanguard move.

For magic, I rolled Light of Battle and Banishment. Not exactly what I wanted - back to blasting everything apart, then.

I won the roll for first turn and gladly used it.

Lost Colony Turn 1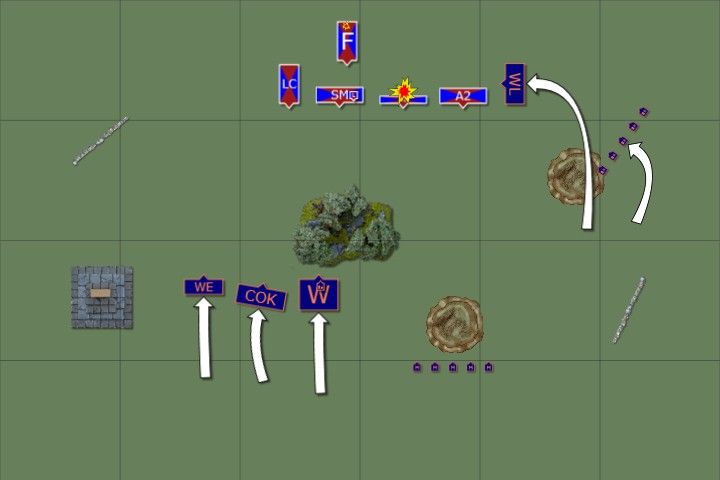 Shades and warlocks encircle the enemy. They both manage to get to the flank of both archer units and the phoenix. Sorceress advances with her warriors in range of banishment, witch elves and knights accompany her. I thought the knights could have stayed behind for a while to avoid the inevitable attempt at searing doom, but decided I can probably stop the spell and gain little by hiding. Harpies stayed in place, hidden behind a hill, waiting till they were needed.
In the magic phase, I managed to cast a doombolt on his phoenix despite his dispel attempt and scored a glorious one wound. Then I dropped some archers from the more central unit with banishment and shades. They rolled a panic check and passed.

High Elves Turn 1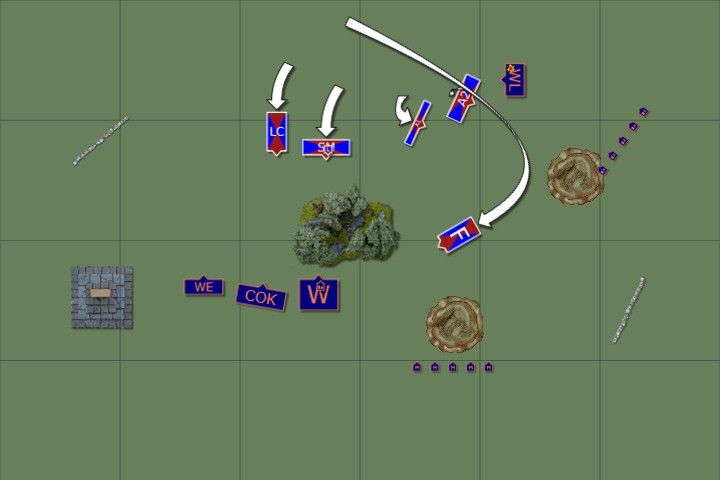 The archers turn so that they get my flanking warlocks into their front arc. Swordmasters march forward with loremaster ready to blast and chariot accompanies them. I think they did not use the whole movement allowance, but am not sure about this. The phoenix flies to a safe spot and threatens with a flank charge.
In magic, big searing doom on the cold one knights was attempted. Even on six dice the spell had not enough power. The arrows slay one warlock.



Lost Colony Turn 2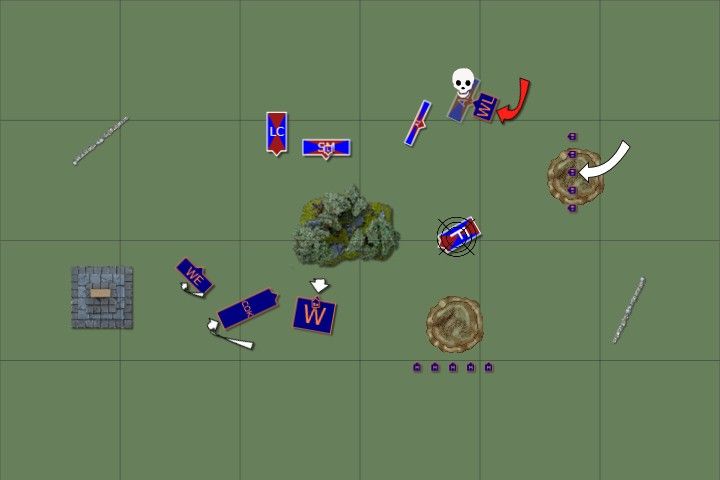 Warlocks charge the nearer unit of archers. Shades move up the hill to get into a good position for shoting. Warriors step back a bit so that should the phoenix attack them, it would hit them to the front. The knights reform, threatening with a countercharge, and the witches wait just outside the chariots range. Harpies are still hiding behind the hill and sneakily look at what is happening.
For magic, I manage to cast a soulblight on the phoenix that has actually no effect at all (S5 is the same as S6 when fighting T3 5+ troops, as is T6 and T5 against S3). Other than that, nothing significant happens. Shades try their luck shooting at the phoenix, but their arrows bounce off.
In combat, warlocks lose one but turn the archers to retreat and catch them. I am not sure about this but I fear we forgot the archers were still steadfast.



High Elves Turn 2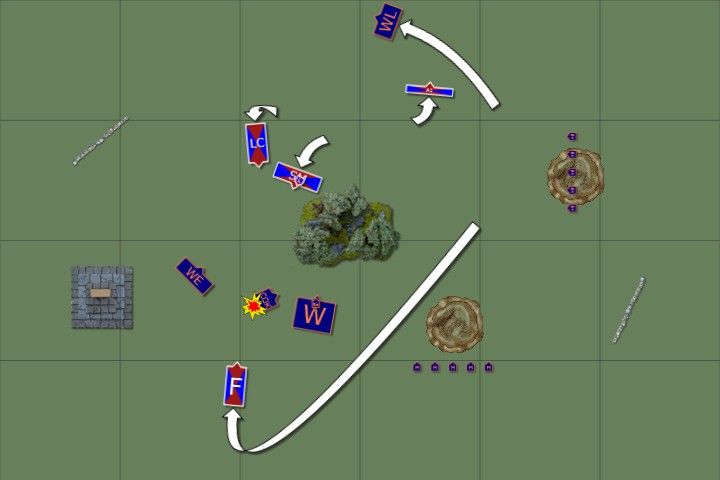 The remaining archers swift reform towards the warlocks who are now deep behind high elven lines. Swordmasters and chariot go forward a bit and are now in a reasonable charge distance - if I do not move next turn, the foot warriors will charge my spearmen on a roll of 9. The phoenix flies behind my lines to show me what a feeling it is when my back is threatened. To put it shortly, I am not happy.
The loremaster, having learnt his lesson, casts a small searing doom this time and succeeds. Three cold one knights perish, but two remain in the saddle and ready themselves to avenge their comrades.
Archers, once again, score no kills.

Lost Colony Turn 3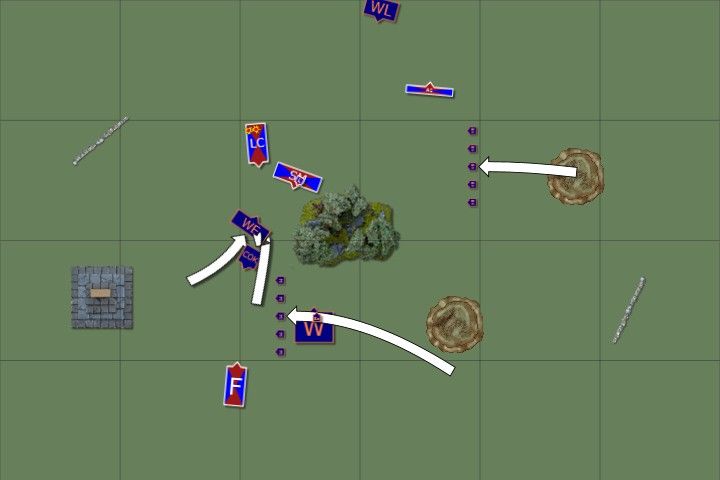 For some reason I think my warlocks can only reform, so I let them do it. Shades go in range for some shooting.
I do not like situation in the centre. I am too far for a safe charge, but the phoenix threatens my warrior bunker and can add its weight with a charge in the back of my witches - if he decides to risk the poison, of course. What I come up is this: the witches go forward at full pace, tempting a charge. Knights position themselves right behind them, so that the phoenix has no room to land should it decide to charge the back of the girls. At the same time, should the phoenix attack my warriors instead, my cavalry would be able to conterchange the next turn. Harpies screen the side of my warriors, so that if the phoenix charges, he has to destroy them first and the fight with warriors can only take place in my turn. The warriors go a bit back again to make a swordmaster charge unlikely, but continue facing them - and not the phoenix - as the swordmasters could actually make it to them still. Finally, the sorceress leaves her unit and goes a bit more to the back (this is not shown in the diagram), which means she is safe from both swordmasters and phoenix.
So, what have I gained: it is unlikely the warriors are going to fight next round. The phoenix has no easy and costly targets - he can charge either harpies, or knights, while should he choose harpies, knights can possibly counterattack.
What have I lost: sorceress is now in danger of beinig fireballed. Which is not that bad as no spell can fly towards her if the swordmasters charge. I am now in pressing need of getting rid of the chariot in one single turn of shooting and magic, as its impact hits could hurt quite a lot. There is a danger that the swordmasters butcher both my witches and my knights through an overrun. It all depends on how effectively can I deal with chariots.
So, to the all-important magic phase. To cut a story short, I inflict two wounds on the chariot, two remain and I think I am doomed.



High Elves Turn 3






Unsurprisingly, he declares two charges against my witches and one against my knights. All of them automatically succeed, as the distances are very short. His archers are ordered to march directly forward to avoid a charge from my warlocks.
In his magic phase, he rolls high for winds of magic and attempts all possible buffs in his fight. I have to let Wildform through, but he casts nothing else.
I am not sure which combat went first, so I will start the phoenix battle. The beast scores no kills at all thanks to the thick armour the knights wear, but two wounds are inflicted to it. It loses combat by two and breaks and the battle suddenly looks much better for me. The sad thing is it was likely a victory through cheating as we forgot to lower the strength of my troops due to the aura.
Then we move on to the witch elf battle. My opponent, depressed by his low rolls, asks his girlfriend to roll the number of impact hits for him (yes, we both had our prettier halves cheering for us) - and it is a six!
With six witches dead, it is obvious the unit cannot survive, so I decide to kill the loremaster at least - he was so kind to make way into the combat - and strip my opponent of magic. I direct six attacks at him, score two wounds and am very happy - until I learn he is actually a lord with three wounds. The remaining two witches are so angry that the effort of their friends ended in vain that out of their six attacks, five swordmasters die. After that, the girls are unsurprisingly killed and the swordmasters reform.
So in the end, the witches were dead, but swordmasters suffered heavy casualties, the phoenix was fleeing and my knights reformed to face the chariot. A very good outcome which is mainly the consequence of my oponent's mistake. It was almost certain the witches were all going to die or break from combat at least. He should have resolved their combat first and overrun into my knights. He would easily dispatch them, too, and his phoenix would be alive.



Lost Colony Turn 4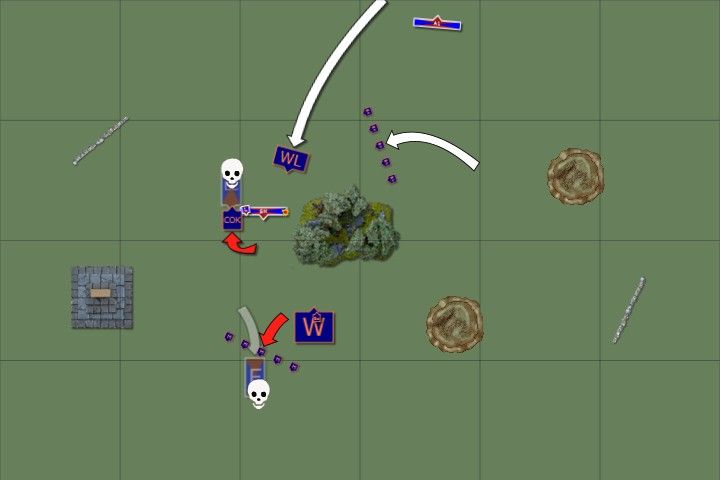 There was not much to do left. Knights charge the chariot, destroy it and reform facing the swordmasters. Harpies charge the fleeing phoenix and are able to catch it. Other units come closer to the centre, prepared to lend hand if needed.
Magic and shooting does not accomplish much.

High Elves Turn 4
His archers swift reformed and run away. Swordmasters turned to face the knights and the loremaster was finally able to kill them with another searing doom.

At this point, we called the game. It was clear I would be able to defeat his swordmasters and we decided the archers were able to get away so that there are at least some survivors.

Post battle thoughts:

I feel bad for forgetting the phoenix's aura. There were other mistakes, too, but none so vital. The battle could have been much different.

After doing some maths, it is clear to me that I had little chance to destroy the chariot in one go. I should have started casting on it earlier. I concentrated on the phoenix in the hope that I can strip it of some three wounds and force my opponent to move him about more carefully, but I have not enough ranged presence to ensure this.

It would have probably been better to use the harpies not as screens for warriors, but for redirecting the chariot. If it were only witches versus swordmasters, the girls could maybe even hold their ground. Especially with light of battle on them. I would gain a turn or two more for destroying the chariot and it would be a good way to at worst reduce the swordmasters to some laughable size. My warriors could probably survive the phoenix for one round and then the knights would come to aid.

Fast cavalry is really awesome - the vanguard move helps a lot, charging archers in turn two is something no flyer can achieve - and if said fast cavalry is warlocks, it makes for one incredible unit. They bring so much flexibility to the army they are considered an auto-include for a good reason. I actually think they are the best equipped unit in my list to deal with the phoenix, thanks to mobility, two poisonous attacks each and 4+ ward.

The phoenix is another incredible beast. Being a flying single model, it can choose only the fights it can win - how am I supposed to throw a bunch of witch elves at him? Even warlocks or cold one knights would struggle to catch it. A bolt thrower would help, of course, but bolt throwers do not go well with the rest of my army, I think - even a small amount of shooting can force me to rush forward as quickly as possible which would render the bolt throwers almost useless.

I got a good diversity for magic, even though I actually never used the light of battle. My elves do not need help with their morale, after all. And as I mentioned earlier, a boosted light of battle might have been cleverer then bombarding the chariot on turn 3.

It was an interesting experience to be at the receiving end of searing dooms this battle. Now I know how unnerving the spell is. Maybe I will swap back to metal magic just to annoy my poor opponents who dare to bring heavy cavalry. But I want to test light magic properly first.

This is probably enough for now - thanks for reading!