---
This Saturday, I had a game against Niblit's Empire Army.

My list:

Dreadlord, Heavy Armour, Sea Dragon Cloak, Giant Blade, Enchanted Shield, Dawnstone (General) - 244pts
Supreme Sorceress on Dark Pegasus, Lvl4 Life, Cloak of Twilight, Dispel Scroll, Dragonbane Gem - 350pts
Master, Heavy Armour, Shield, Sea Dragon Cloak, Ring of Hotek (BSB) - 157pts
Death Hag on Cauldron of Blood - 275pts
Characters = 1026pts

34 Witch Elves, Full Command, Razor Standard - 449pts
5 Dark Riders - 80pts
5 Dark Riders - 80pts
Core = 609pts

4 Reaper Bolt Throwers - 280pts
5 Shades - 80pts
5 Shades - 80pts
Special = 440pts

6 Doomfire Warlocks - 150pts
7 Doomfire Warlocks - 175pts
Rare = 325pts

His list:

1 Arch Lector @ 223.0 Pts
General; Barding; Prayers of Sigmar; Heavy Amour; Warhorse Crown of Command Talisman of
Preservation [45.0] Enchanted Shield [5.0] Biting Blade [10.0]

1 Wizard Lord of the Jade Order (Life) @ 294.0 Pts
Barding; Magic Level 4; Lore of Life; Warhorse Dispel Scroll [25.0] Obsidian Lodestone [45.0]

1 Captain of the Empire @ 153.0 Pts
Barding; Great Weapon; Full Plate Armor; Battle Standard; Warhorse
Dawn Stone [25.0] Ironcurse Icon [5.0] Dragonhelm [10.0]

2x1 Master Engineer @ 65.0 Pts

11 Knights of the Inner Circle @ 340.0 Pts
Barding; Lance; Full Plate Armor; Shield; Standard; Musician; Champion; Warhorse
The Steel Standard [35.0]

2x5 Knightly Orders @ 120.0 Pts
Barding; Lance; Full Plate Armor; Shield; Musician; Warhorse

10 Spearmen @ 85.0 Pts
Spear; Light Armour

5 Det - Archer @ [35.0] Pts

5 Demigryph Knights @ 325.0 Pts
Barding; Lance; Shield; Standard; Musician
Banner of Swiftness [15.0]

1 Great Cannon @ 120.0 Pts

1 Steam Tank @ 250.0 Pts

2x1 Helblaster Volley Gun @ 120.0 Pts

Deployment

We roll up a table from last year's ETC at random and get number 3. This means that we had to improvise somewhat with regards to hills. The hills on the RoB board are not hills in this game, while the book on my side of the table and the forest on his without any trees are.

I won the roll-off and chose the side with the ruins. I simply could not allow him to place war machines there. I was extremely happy with deployment. Everything was outside HBVG range, except for the Shades on the left flank, who would undoubtely dispatch his rightmost HBVG in turn 2. I placed the Shades 6.1" away from each other, so they wouldn't panic if one of them were destroyed. I finish deploying first and grab first turn. My spell selection is also great with Flesh to Stone, Regrowth, Throne of Vines and Dwellers. His lvl4 doesn't get Flesh to Stone, which is a huge boon.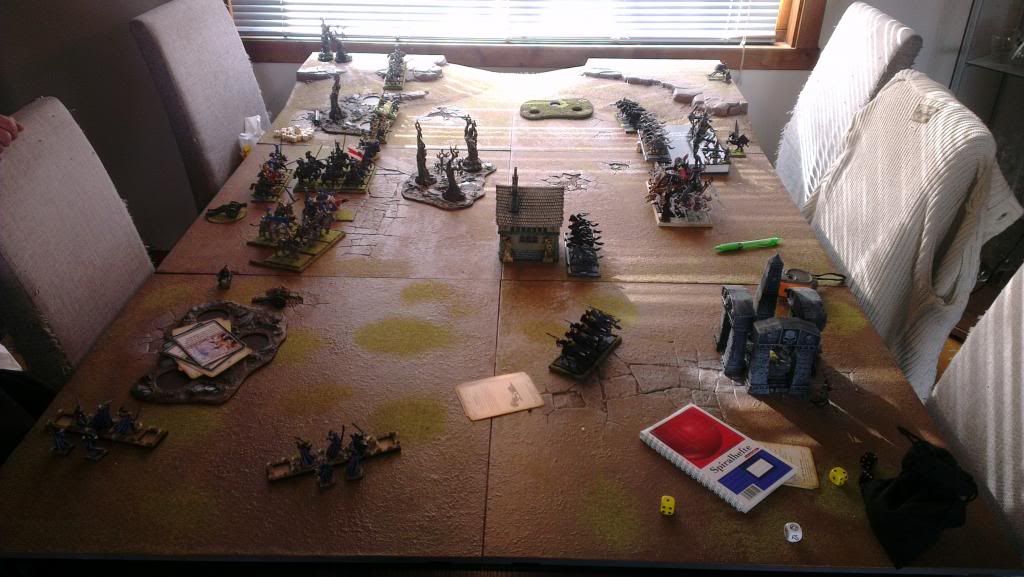 Turn 1

I move cautiously forward on my right flank. I am really not liking his small knight unit on my right flank as the only thing able to deal with them are RBTs.

Magic is 3v2, which was not good, as I really needed a decent phase to establish an early lead. I manage to get Throne of Vines through, but he dispels Flesh to Stone.

In shooting, one of the Shade units kill the master Engineer standing next to the Helblaster, while the other Shades manages to do two wounds (!) to the Helblaster itself. I decide to try and pick off the last wound with my left RBT, but it doesn't do anything. The other three RBTs combine to do one wound to the small knight unit. If I could just kill them or make them panic, I would have free reign on both flanks. Dark Riders misses everything.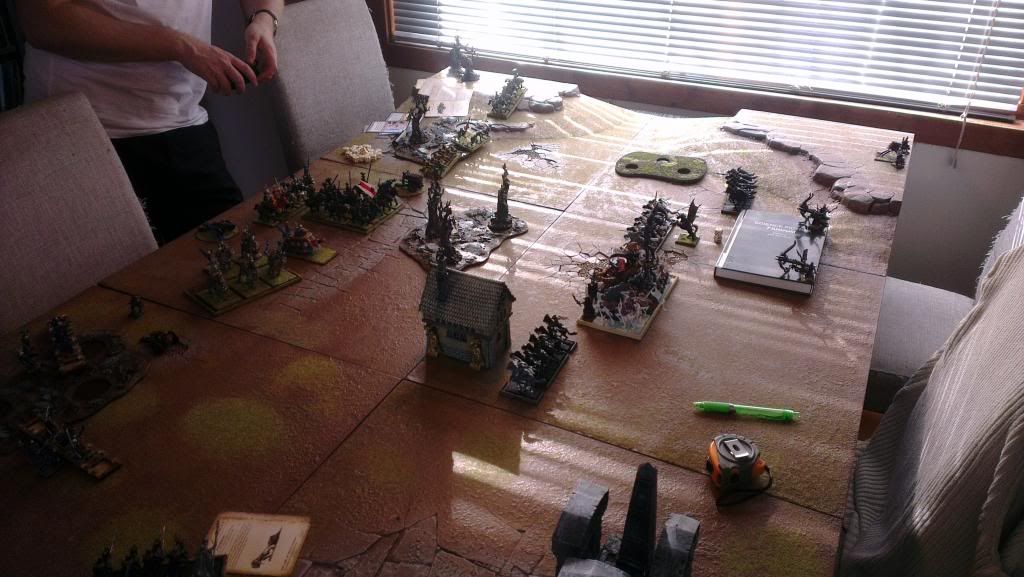 He shuffles his lines a little, moving the Demigryphs so that my Shades can't charge past them into the cannon.

Magic is 6v5 and he tries for Dwellers on the Witches. This is extremely risky, as he has a roughly 40% chance of miscasting and not that good of a chance of actually getting the spell off without IFing. He manages to beat the casting value though and I have to use my scroll. He fails to dispel Throne of Vines with his last dice.

His cannon and Steam Tank kills one Reaper each. The Helblasters kill four warlocks and four Shades, panic is passed on both of them.




Turn 2

I charge the Helblaster with my Shades and move the Warlocks up into the face of the other one, out of LoS of his knights, for a next turn charge. My lone Shade move behind the Demis to threaten the cannon.

Magic is 5v3 and I fail to cast Dwellers. He dispels Throne of Vines.

Every shooting attack I have miss.

He shuffles around a bit and sends his 5-man knight unit even closer to my two remaining bolt throwers.

For magic he gets 6v5 and he manages to cast Dwellers without miscasting and without me being able to stop it...18 Witch Elves die. The Helblaster kills only one Warlock, which is great, as I don't have to use my DR to charge the Helblaster. The archers kill one of the DR and the Cannon kills another Reaper.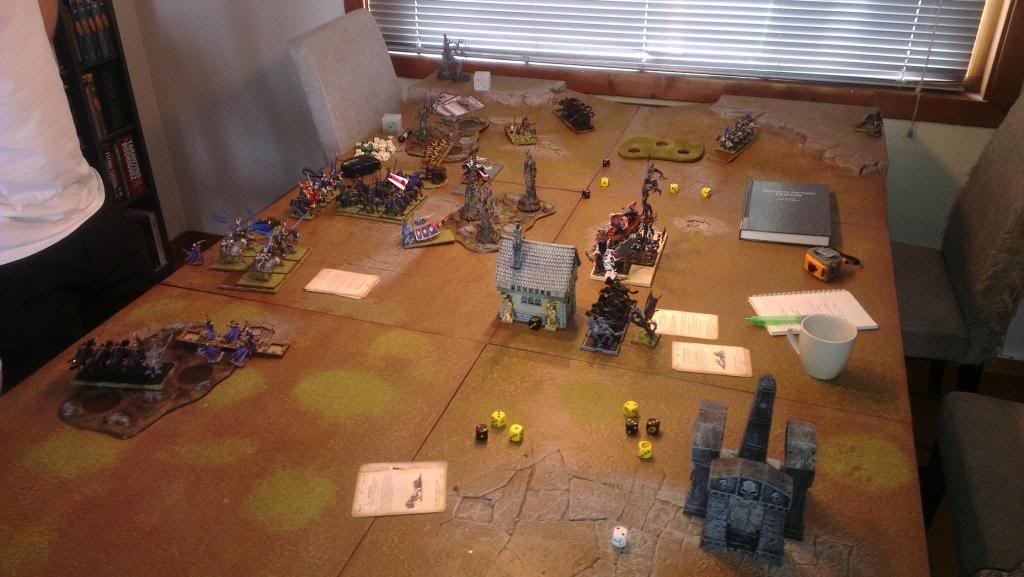 Turn 3

The Warlocks charge the Helblaster and the Witch Elves tries to go for a 11" charge on the Helblaster, figuring that I would be steadfast for the first rounds against his Knights anyway and that I could chaff up his Demis if needed. I roll a 2 and a 1. Too bad. The lone Shade charges the cannon. Best case scenario, I kill him or I hold up his cannon for a turn.

In the magic phase I manage to get Throne of Vines through, but I fail to cast Regrowth on 3 dice. The Reaper misses again and is now surely dead, but the Dark Riders manage to kill the archers.

In combat, the Warlocks "easily" (they did exactly three wounds and it came down to the last horse attack) dispatch the Helblaster and overrun into the Engineer. The Shade dies to the cannon.

Then something amazing happens. My BSB is attacked by Witches, takes three wounds and I roll a double 1. He is dead...

He charges his Steam Tank into my Witch Elves and the last remaining RBT with his knights. He rolls low for magic and only gets three dice, but he managed to put Throne of Vines up. In combat, the Steam Tank kills 7 WE from impact hits and takes four in return from the Dreadlord and the WE. I am steadfast and hold. My Warlocks fail to kill his Master Engineer, which is horrible. Now I can't use them to redirect and he can just charge me with both Demis and Knights next turn!




Turn 4

My Dark Riders charge the cannon.

I finally get a good roll for magic, but he unfortunately still has his scroll, something that will surely make things a lot harder. I start with Soulblight, which is dispelled. I now have 7v2 and should be able to just control the magic phase completely. My thought is that I can two dice Throne of Vines and then cast Flesh to Stone and something else. I pick up my dice and cast double 1...He then dispels scrolls Soublight and dispel my bound frezy spell with his last two dice. Shooting does nothing. I combat reform into ranks after I win combat. His Demis can only attack the Cauldron if they charge, while the Knights can only attack the Dreadlord. The Steam Tank is left on two wounds at this point.




He charges me with his Demis and his cavalry. At this point, I really regret my decision of ditching the Crown of Command. His Knights at the back move up on the hill to get a rear charge next round.

Magic is 8v5 and I dispel Throne of Vines. I can't let him have it as he will just try to push Regrowth on the Stank. He tries to regrow the Steam Tank anyway with three dice and he gets a double 6! He heals two wounds on the Stank, but promptly takes a wound of it as well as a wound on the mage, the BSB and kills 6 knights as he rolls a double 1 for his miscast result. Unfortunately, his mage survives.

I can't remember if I win combat or not, but I think I do. The Dreadlord is in a challenge with his Arch Lector, which is great for me, as he should be able to kill him in two turns.




Turn 5

I drop the ball here. I should have used my Warlocks to redirect the Knights, but I figured that if they charged me, I could simply charge them in the rear next turn and win combat decisively, so I move them behind them instead.

Magic is 7v4 and I manage to get Soublight through on the Demis. I put one wound on his AL, but he manages to ward save three and is left on one wound. I win combat, but he sticks.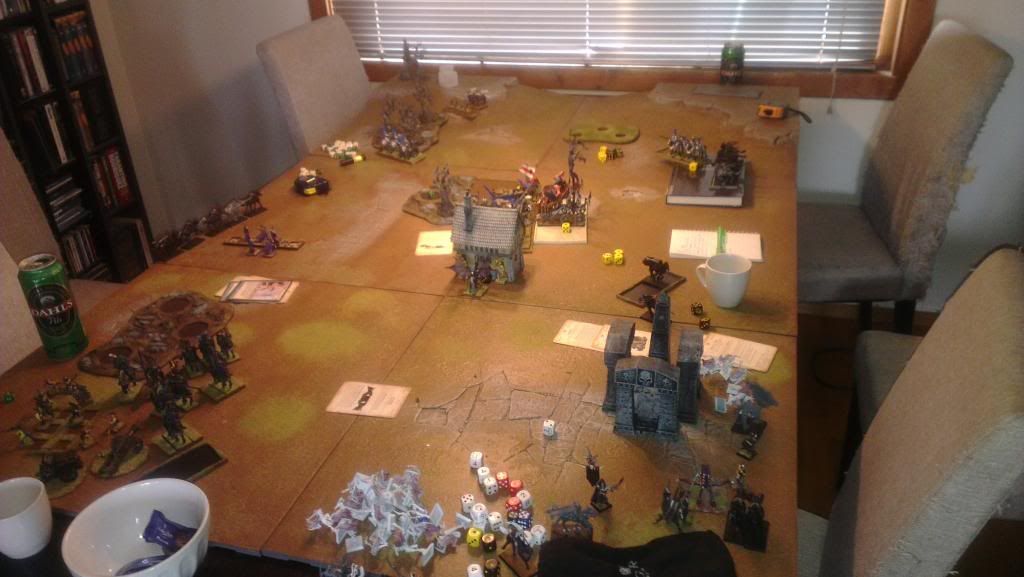 He doesn't have anything left at this point that isn't in combat or completely out of the game, so we jump right into magic. He has 9 dice versus my 6. I let Throne of Vines go and use the rest of my dice to dispel Regrowth.

I can't do the last wound to the Steam Tank and also fail to kill the Arch Lector, which is too bad. He wins combat and I run with my Cauldron, my Dreadlord and my few remaining Witch Elves. My luck is strong here, and I mange to roll a 12 for my flee distance!!! He fails to catch me.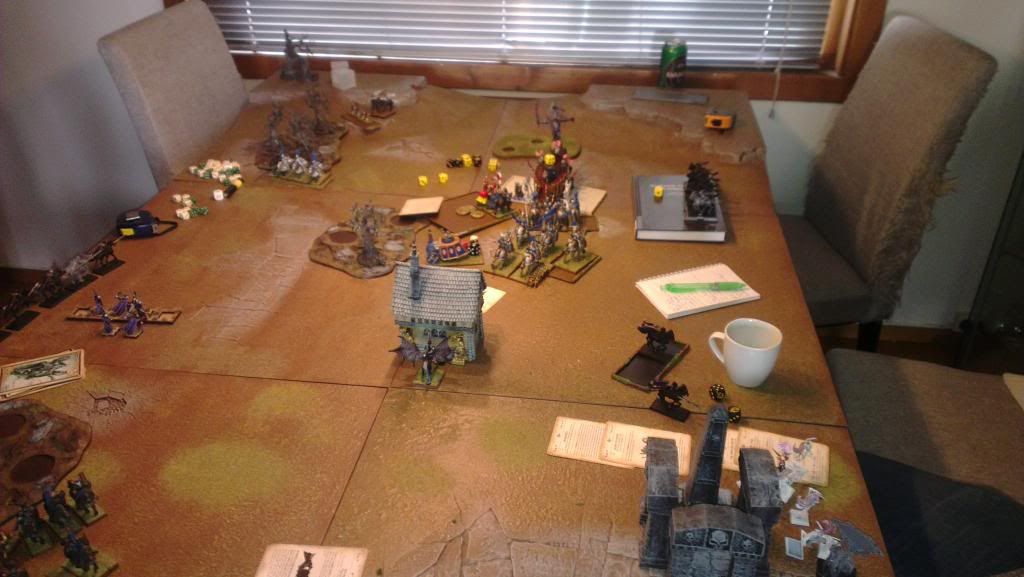 Turn 6

I rally my big unit and move the Warlocks so that they can cast Doombolt at his three characters. They are all left on one wound at this point, so a decent cast could see me kill all of them. The Shades move up to try and take the last wound of the Steam Tank.

Magic is 4v3 and I manage to get Doombolt through. Unfortunately it doesn't do antything.




In his last turn, he tries to cast Dwellers at me, but I dispel it.

When we tallied up the VP at the end of the game, he had 1021 and I had 940, which means it was a 10-10, a draw!

Evaluation

It was a great game! It was extremely bloody and I believe I made some mistakes that I should try to fix before I meet Empire the next time. Niblit played a pretty strong game, and I really believe he deserved the victory. It was just luck on my part that I managed to flee so far that I survived with my deathstar.

I am 100% sure that I need the Crown of Command with this setup. If he did not get Dwellers off on my Witch Elves, I would probably have been steadfast and/or won combat all the time, but these things happens, and I need to be prepared for it.

So, what do you guys think? Comments and criticism is, as always, very welcome!