---
I played a game against my friend rusty's WE the other day. He is currently looking for a good WE army to bring to a tournament in Sweden coming up soon.

My list was:

Dreadlord, Heavy Armour, Sea Dragon Cloak, Giant Blade, Enchanted Shield, Crown of Command (General) - 254pts
Supreme Sorceress on Dark Pegasus, Lvl4 Life, Cloak of Twilight, Dispel Scroll - 345pts
Master, Heavy Armour, Shield, Sea Dragon Cloak, Ring of Hotek (BSB) - 157pts
Death Hag on Cauldron of Blood, Rune of Khaine, Sword of Anti-Heroes - 345pts
Characters = 1101pts

34 Witch Elves, Full Command, Razor Standard - 449pts
5 Dark Riders - 80pts
5 Dark Riders - 80pts
Core = 609pts

4 Reaper Bolt Throwers - 280pts
5 Shades - 80pts
5 Shades - 80pts
Special = 440pts

5 Doomfire Warlocks - 125pts
5 Doomfire Warlocks - 125pts
Rare = 250pts

His list:

Wood Elves (Standard) Selections:
+ Lords + (608pts)
* Spellweaver (333pts)
Elven Steed, Lore of Death, Obsidian Lodestone, Ranu's Heartstone, Wizard level 4
* Spellweaver (275pts)
Dispel Scroll, Lore of Metal, Wizard level 4
+ Heroes + (137pts)
* Noble (137pts)
An Annoyance of Netlings, Battle Standard Bearer, Dragonhelm, Elven Steed
+ Core + (1222pts)
* Dryads (108pts)
Branch Nymph, 8x Dryads
* Dryads (108pts)
Branch Nymph, 8x Dryads
* Glade Guard (184pts)
Banner of Eternal Flame, 13x Glade Guard, Musician, Standard Bearer
* Glade Guard (162pts)
13x Glade Guard, Musician
* Glade Guard (138pts)
11x Glade Guard, Musician
* Glade Guard (162pts)
13x Glade Guard, Musician
* Glade Riders (120pts)
5x Glade Rider
* Glade Riders (120pts)
5x Glade Rider
* Glade Riders (120pts)
5x Glade Rider
+ Special + (531pts)
* Wild Riders of Kurnous (323pts)
Musician, Razor Standard, Standard Bearer, 10x Wild Riders
* Wild Riders of Kurnous (208pts)
Musician, 8x Wild Riders
+ Rare + (100pts)
* Great Eagles (50pts)
* Great Eagles (50pts)

The pictures are taken with my phone, so sorry for them being blurry.

Deployment

I rolled Shield of Thorns, Flesh to Stone, Shield of Thorns and Regrowth for my spells. No thrones, so not optimal, but I was fairly happy.

He had many more drops than me, and his army was fairly mobile, so I knew had little hope of getting any good combats in with the Witches. His left flank with the 10 Wild Riders also looked very scary, but I thought I had a fair shot at killing him there. The Bolt Thrower deployment I was very happy with. They were decently spread out and had good lanes for shooting. One of them even got a building to stand in.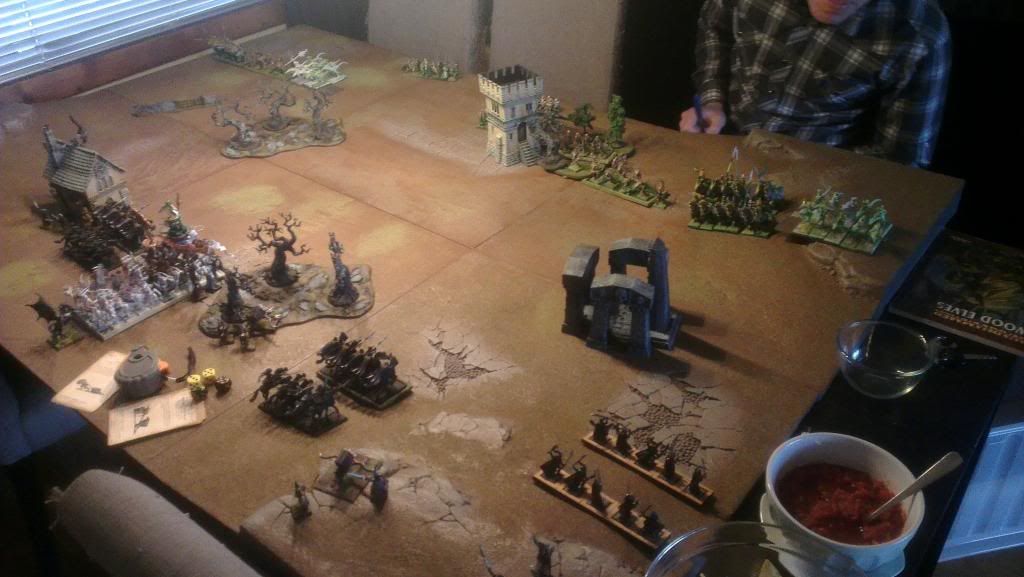 After Vanguard

The Vanguard part was a movement phase in its own right, as he had five units of fast cav and I had four. Nevertheless, I felt pretty good after it. His Wild Riders vanguarded so they could not charge turn 1 if he got the first turn. I moved my Dark Riders on the right flank up to threaten with a counter charge and the Warlocks up so they could doombolt his units. I also moved my left warlocks behind the building and my DR back to avoid getting shot at. He moved aggressively up on the left flank. We rolled for starting, and we both got a 2. I had +1 and so got the first turn, something I was very happy with.




Turn 1

I moved up cautiously on the right side, my Witches ran forward to get in his face, while my left flank reposition themselves.

I roll a 6 and a 5 for Winds of Magic and even channel one. What a great way to start the game! I roll four dice on Doombolt on the leftmost GR, which is dispelled with all his dice. I now have 8 dice to none. I use four dice for soulblight on the big unit of WR, something that lets me shoot him more easily and reduces his damage output on the charge somewhat. He has to let that go. I then cast flesh to stone on the unit of 5 shades standing in front of the WR, something that draws the scroll. I have two dice left which I use to cast Shield of Thorns on the Shades. 2d6s3 will hurt against an unarmoured t2 unit.

Shooting sees me kill 8 of the WRs and 6 GRs from two different units. That is a lot of casualties in one turn!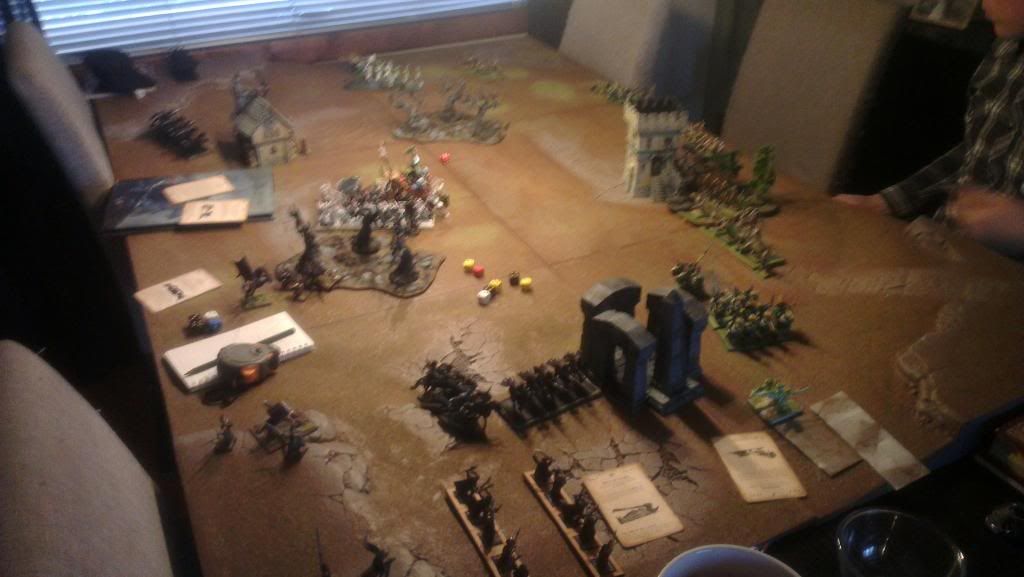 Rusty realises that he may have overextended a bit and decides to pull his forces back somewhat. Magic is 6v5. He casts Final Tranmutation on my Witches with 5 dice, something that draws my scroll. This is his most dangerous spell and the most dangerous round for it as well, as I see it. He rolls really well for shooting and kills about a third of my Witches.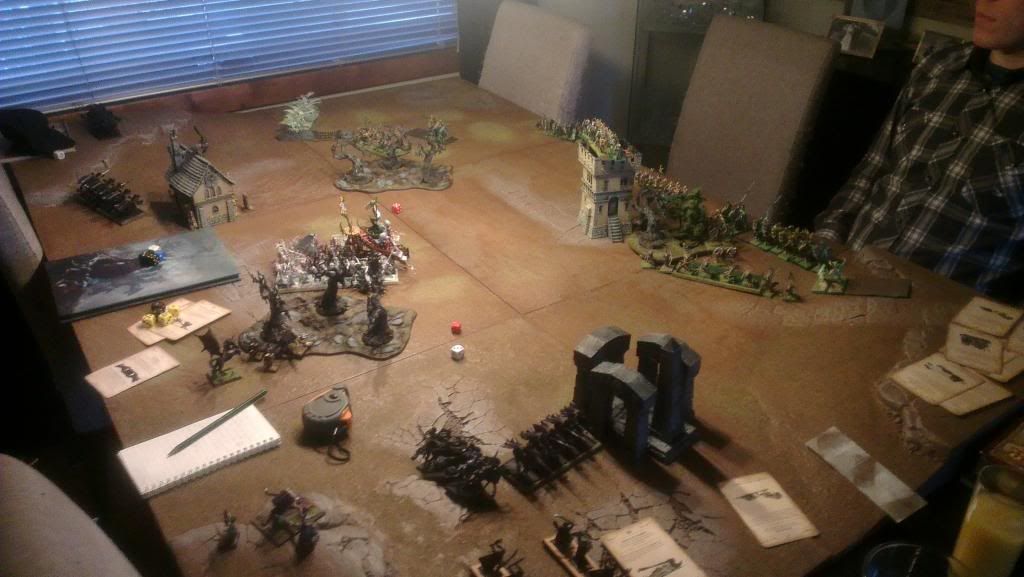 Turn 2

I move the Witches further forward and move the rest of my army up as well, so I can be within range with my shooting and magic.

Magic is again 12v6. The leftmost Warlocks kills only two dryads with a doombolt, but the important thing is that he fails to dispel Flesh to Stone on the Witch Elves! They are now t5 against his shooting next turn. Another doombolt sees me kill 9 GG from the tower and lastly, Rusty fails to dispel Awakening of the Wood, which kills 5 dryads.

Shooting kills the rest of the WR and some GG.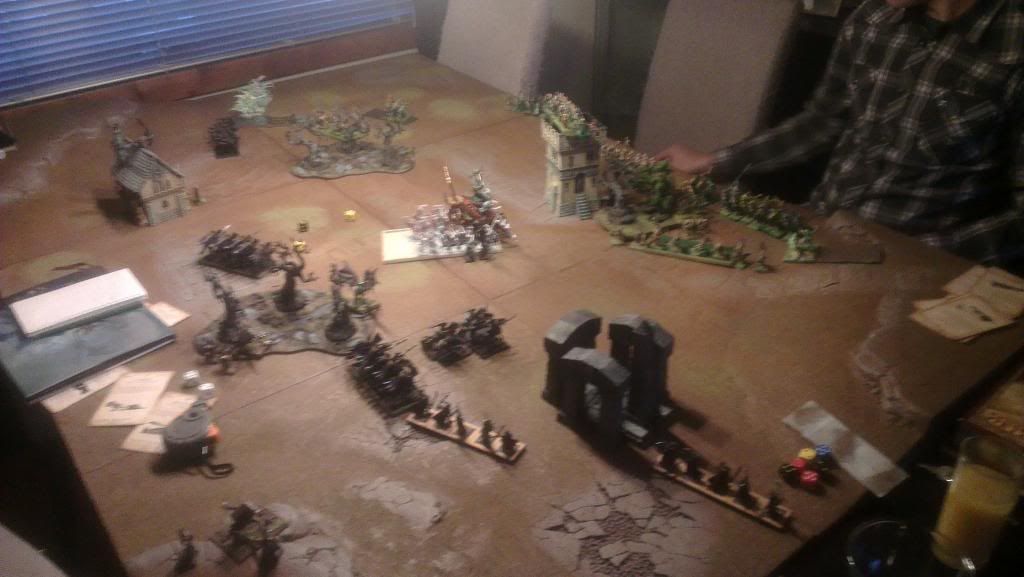 On the WE turn, not much happens, but he uses his last three Dryads from the unit of 8 to redirect the Witch Elves. He also gets of Final Transmutation which kills 8 WE. Luckily, my characters passes their look-out sir tests. Shooting is pretty insignificant due to my high toughness, but he picks off three DR forcing them to run away.

Turn 3

I charge the Witch Elves into the Dryads and move up more aggressively. My leftmost Warlocks zips around his WR.

Magic is 6v3 and I manage to get Doombolt through, killing one of his two eagles hiding behind the tower. He unfortunately dispels Flesh to Stone.

In shooting, the rightmost Shades manages to kill one of the four remaining GG in his leftmost unit, who promptly runs of the board and my Reapers manage to put two wounds on his last eagle.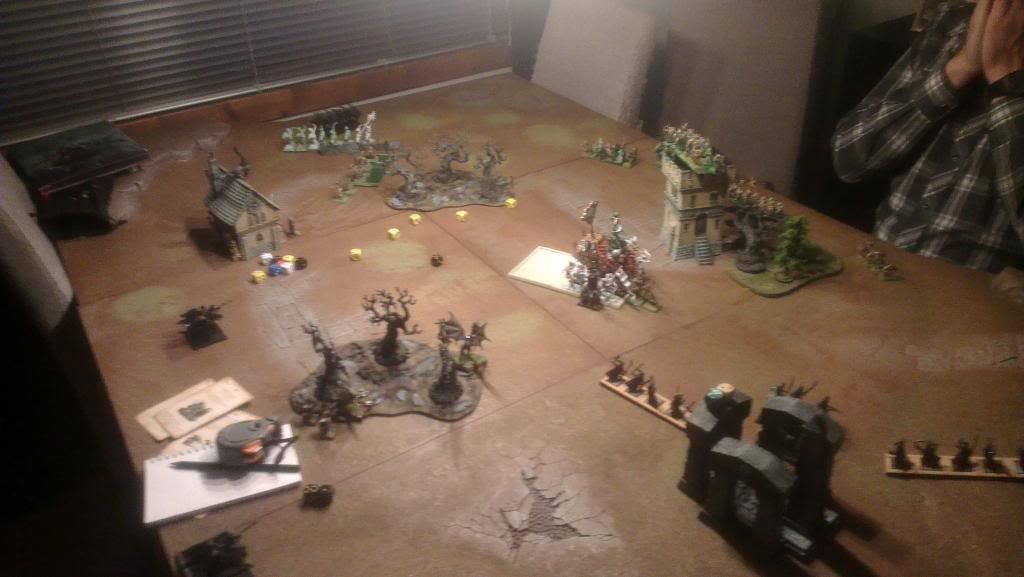 On his turn, the Winds of Magic blows strong and gives him 11v6 dice. His death mage is far from the action and my characters have good ward saves, so he has to use his metal mage. He rolls two 1's when casting Final Transmutation on the Witch Elves and loses two mage levels. I also dispel the spell. He does however get Soulblight through on the Witches....

In his shooting phase, he kills all but two Witch Elves and put a wound on the Hag. I am lucky he had so many small units so I could allocate a lot of hits on my characters to prevent him from killing the Witches.

Turn 4

I move my Cauldron into the forest to get soft cover and move a few units around to get into better positions. Magic is 5v4 and he stops Flesh to Stone. I do however cast Doombolt on the GG in the tower, killing 6. Shooting also kills a lot of GG and the Shades manage to take the last wound of the second Eagle.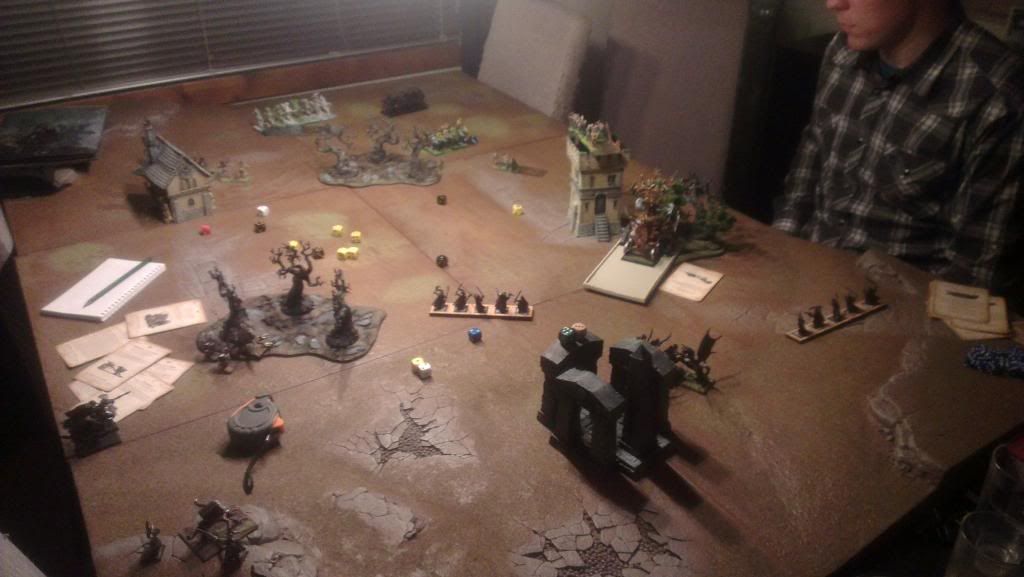 The game after this is pretty uneventful. I shot of some of his stuff and make some GG run off the table. He sadly did not have much left to deal with all my stuff at this point of the game. In the last few rounds I killed one of his level 4s and he was left with his BSB and Death Wizard and a few fast cav models. He had killed one of my RBTs with Dryads and taken half of my Witch Elf unit which made this a 19-1. I felt a bit lucky as Rusty is a good player and this was my first time playing with the Witch Elf Star.

I don't feel like I got to use the WE in any good manner except for as bullet magnets, but that has everything to do with the list I faced. The men of the hour were as always the Warlocks and the RBTs, they took out an enormous amount of points.

Comments and criticism are very welcome.