---
Not too happy with the quality of these pics, I'll try taking pics in outside again and see if I can get cleaner shots.

Repeating Bolt Thrower and Crew
I love these weapons! I had some old 80mm bases from At-43 that I wasn't using, so I drilled out 1" holes for round bases to fit into. Then I modified the crew so they weren't all the same. The telescope is made from a Space Marine back banner pole. The arms and blades are from Dark Eldar Wyches and Dark Elf Corsairs plastics. Love plastics, they make perfect conversion fodder.

These guys gave me a chance to figure out my colours too. Armour is chainmail base, and mithril silver highlights. Both steps have had small amounts of Regal Blue mixed in, and Asurman Blue and Badab Black washes.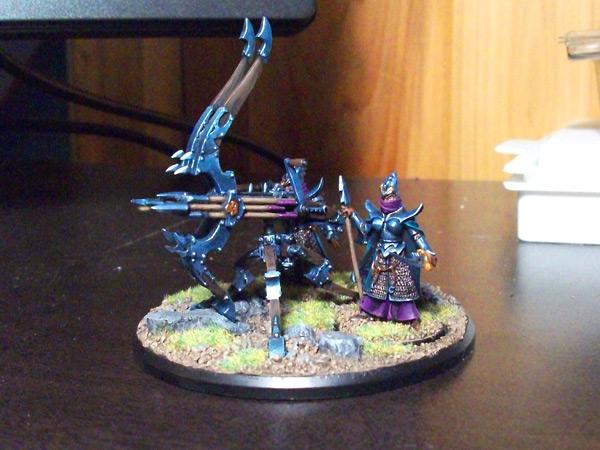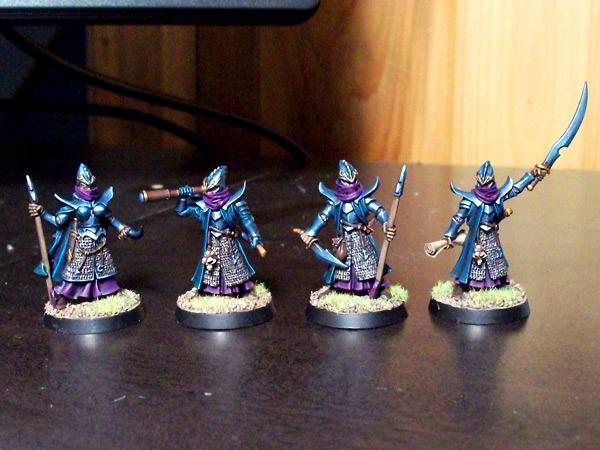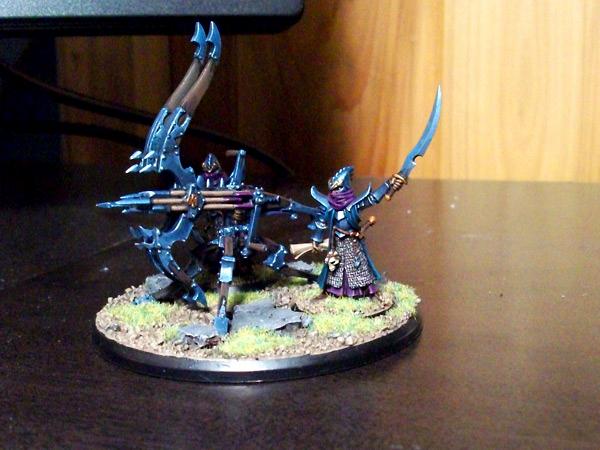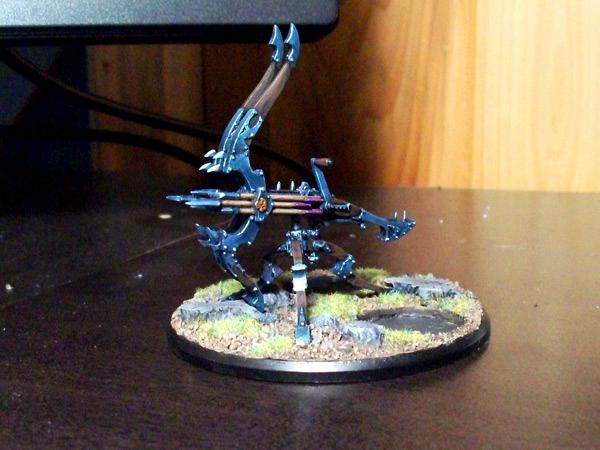 I really tried not to use purple, honestly! Seems like purple is mandatory for DEs. But I tried Scaly Green with the blue army on my Spearmen, and it just doesn't have the same impact. So, purple it is. Dammit.



Sorceress and Scroll Caddy:
Absolutely love the new plastic Sorceress! The legs seem a bit off for some reason, and I wanted something a bit more dynamic for my Supreme Sorceress. So, I used Wych legs, and sculpted a new ass to join the two. I bought the Isle of Blood boxed set for the mini book in London (the whole thing was cheaper than just the hard cover book here in Canada) and had planned on using the ball of magic as a base for her. Didn't quite work for me though, so I decided to sculpt something that looked like a wave of dark fire. Took some work, but I'm pretty happy with the end results.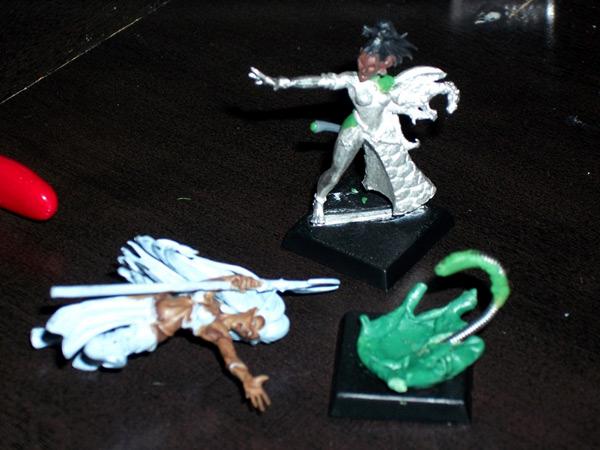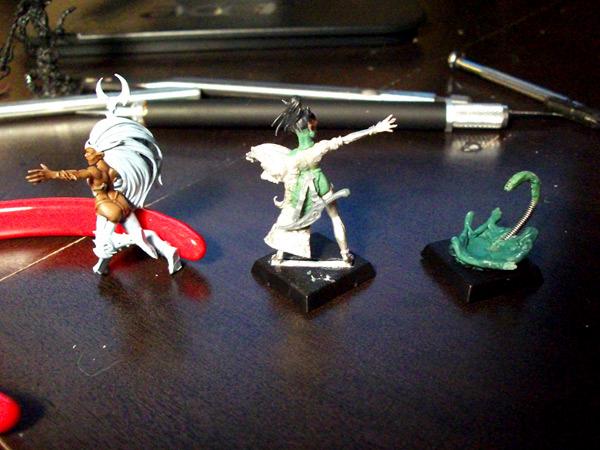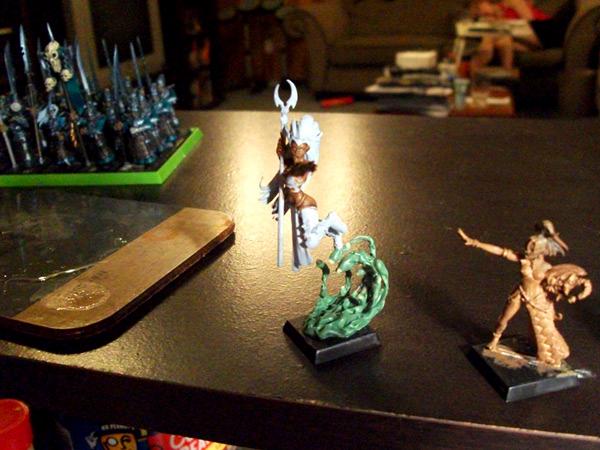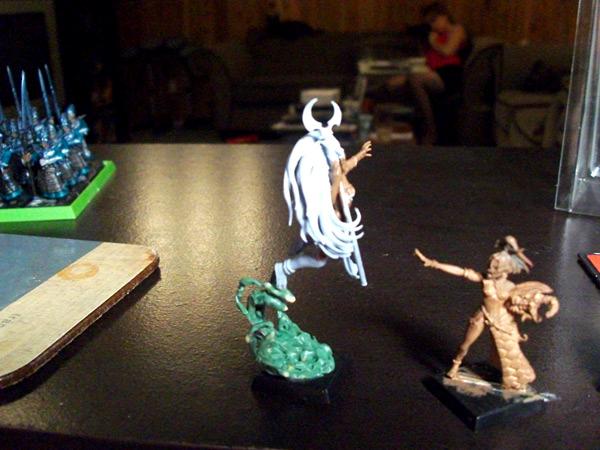 Finished her face tonight;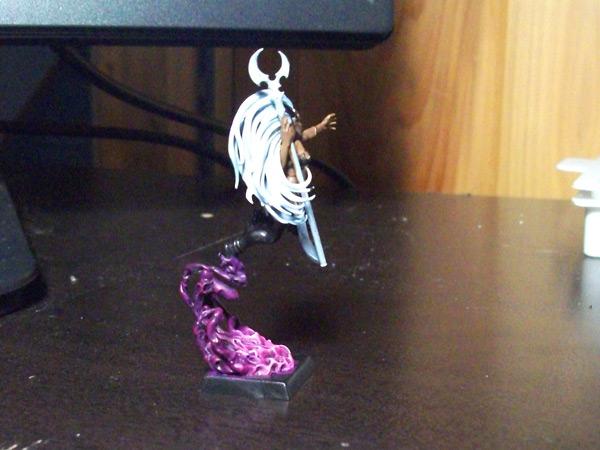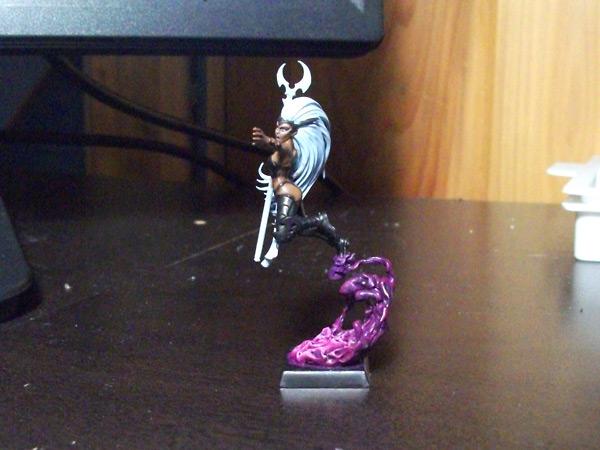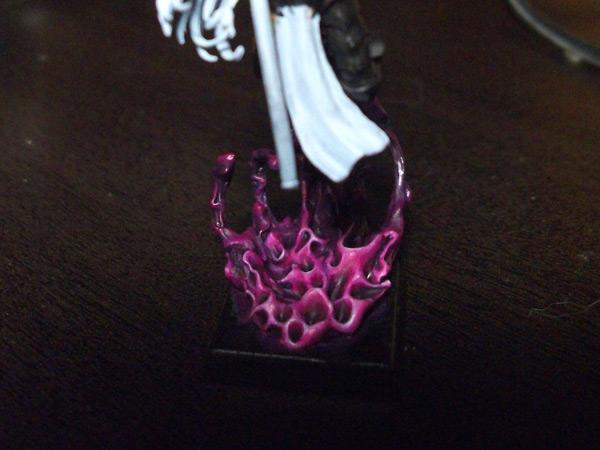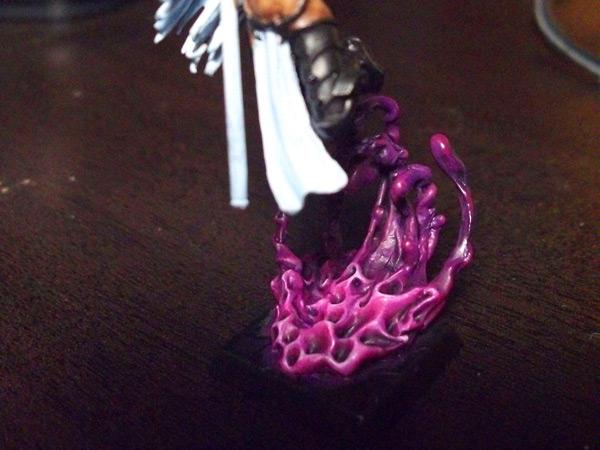 Here's the scroll caddy. She' from Avatars of War; a buddy of mine had a spare.



You can see GW's "Big Hat theory" in place here; The bigger the sorceress, the bigger the hair. The head that came with the model looked terrible next to the GW sorceress, so I replaced it with a Wych head. I also scraped the back of her dragonskin skirt flat to remove a dagger and pouch, so I could add a dagger that came with a DEldar vehicle. The low-slung dagger breaks the silhouette a bit, as it runs parallel to her outstretched arm.

Feedback and commentaries appreciated. Puns will be ignored.