...My boyfriend suggested to put some kind of
eagle
on them. At first I was afraid it would look too high-elvish, but then it set me thinking. We were High elves once and even though I am not sure about our present relationship, we have never had a civil war. So... why not? Especially if it is modified and the original source already forgotten.
So I took this:
(Probably not an official symbol, as it seems to be from warhammer fantasy roleplay, but I like it anyway and it suited our purposes)
and turned it into this: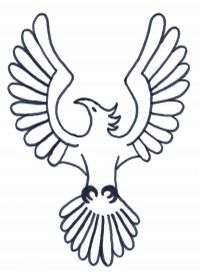 http://i1211.photobucket.com/albums/cc4 ... ves%20WIP/
eagle
.jpg
This is simplified version for the shields, but
the same symbol should appear on standards as well
, in a more complex form.
I basically changed it into
a real bird
, turning the flames into feathers...