-- Latest Update --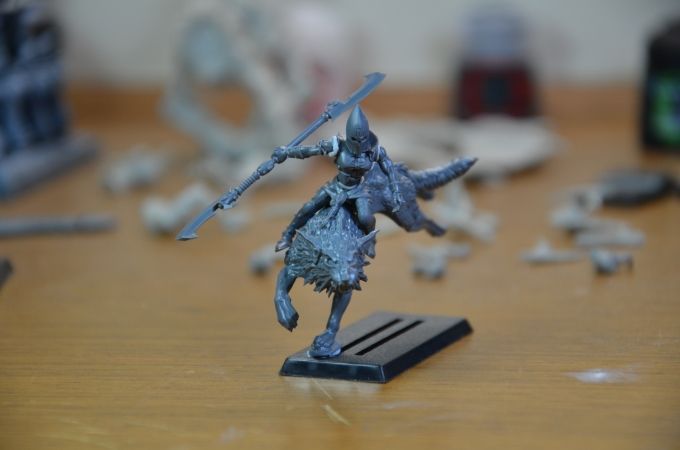 WARNING: INTRODUCTORY POST AHEAD… BEAR WITH ME
Let me start by setting the scene: I have been, well, involved (probably the best word to use) with Warhammer for the past 10 or so years, but the last time I picked up a brush or used a model in anger was at the beginning of the previous edition, so since then I have been mainly watching other people get motivated and churn through armies. Having said that, I have had a yearly subscription to WD and bought every new army book and rule book that has come out since then, pouring over them and trying to work up the courage to invest my time and money into the hobby again, but to no avail. As you can all see from the 'Join Date' on stage left, I have been lurking in the shadows of the Druchii.net community for a long time with very little input – well, looks like that's about to change! Spurred on by my new (financial) year's resolution to get back into the hobby in a very serious way, I have decided to begin a project log! Yay! So now that the obligatory pre-amble is out of the way, let's get to the guts of this project!
Let's start with the question that must be answered at the start of any project: theme or competition? For me it's a no-brainer, simply because I'm not sure what tactics I like playing with under these rules, so theme it is! Well, that was easy.
So, having decided that 'theme' was going to be the driving force behind this project, I needed two things: models and a back-story. The models are easy enough, I just intend to make large units of everything which then gives me all the flexibility I want when I start playing again
Story though…. well, that was where it became a little bit difficult. Whilst I am a Druchii lover through-and-through, I am sometimes bored by the wanton violence, treachery, hate-fuelled actions and general lack of honour that is attributed to our fine race. I wanted a cold and calculating leader – sure, he might fly off the handle sometimes and execute a small village or two, but the majority of the time that little temper of his is in check. I wanted a house that was noble and 'pre-sundering' in their attitudes, beliefs and view of the world, just… darker. Of course, that would just be a boring High Elf army, and I do so hate the High Elves
Then it came to me. Vampires – ok ok, hear me out before you run away in disgust! I know it might go against everything that you believe to be true, but I decided I really did want something different, so why not go the whole-hog and really mess with the Warhammer world? I mean, it never EXPLICITLY says that a vampire can't be an elf, right?*
Now let me just clarify something now – this is not a Vampire Counts log, so don't expect to see hordes of skeletons or zombies! It's just that these elves (or maybe only some of the high ranking nobles) will be vampiric… in some way… somehow.
As for their look, I decided early on that I wanted this army to be very dark in both nature and look, so it looks like black armour is to be the new black… armour. I haven't quite settled on the perfect mix yet, but a few test models down the track I'm getting pretty close – pictures up as soon as my camera decides it's going to stop taking photos about as well as a microwave does!
So there it was – an ancient bloodline from before the Sundering that is in some way, somehow vampiric, with a very dark colour scheme to suit their equally dark nature, accompanied with a Black-Ark load of fluff to give this army some real character… well, now that I say it like that it doesn't seem like such an easy task. But hell, I'll give it a shot
So, without further ado, I present to you…
The House of Black Flames!
*I am probably wrong, but please don't point it out; I'm happy in my bubble of ignorance, and I'll come up with the fluff to back it up =)
Edit - Image Removed
Just as a side note, this was something I half-painted for my previous army all those years ago – it's not much to go on, just thought I'd give you an idea of what level to expect![/i]