Howdy folks.
Im an old time player and ive been playing DE for the passed ten years or so. I have an army, but i am in the process of updating it to a new color-scheme. The old one was pained a la GW, with silver armor, purple cloth and so on. The new color-scheme is a bit more unique, so i figured id share it with the community
The base is simple. I use a green tinted silver metal for plate armor, and gold for chainmail. Cloth is painted black and i have details in red and purple. skin is based on elf flesh. The beasts and SDCs will be painted in a brown/white color that is stolen from the hydras in the ancient game Heroes of Might and Magic II
The purpose of this army is not to create a showcase army, but an army with good tabletop standard, and hopefully with some cool conversions to catch ones eye. I will paint my rank and file models in 2 steps (possibly). First i will paint each surface in one color, and then i will ink it. when/if i feel like it i might go back and "upgrade" them with full highlight like my characters, but first i will make them usable on the battlefield. I will however make the bases complete in the first step. I find that it helps an army tremendously to have proper bases when it comes to looking "finished" even if many individual models wont be fully highlighted.
I will bump this thread and update the first post... whenever i feel like it.
Deadlord
Converted from a plastic corsair with legs from a warrior. Shield is from an old CoK and the whip is made grom greenstuff wrapped around steel wire.
Battle Standard Bearer
Converted the same way as the Dreadlord. Can actually stand up without tipping over
Flying Master
I made this conversion, and painted the pegasus over five years ago, but i never finished it. Now when DP are great again i figured id finish the model. I havent put any great effort in to the master, and the pegasus was painted for a different army, but it works as a decent place holder, and its not that horrible even if it doesnt quite fit the army. The rider is a HE dragonprince with a crappy greenstuff cloak added. The pegasus is a bretonnian pegasus with a sword on its nose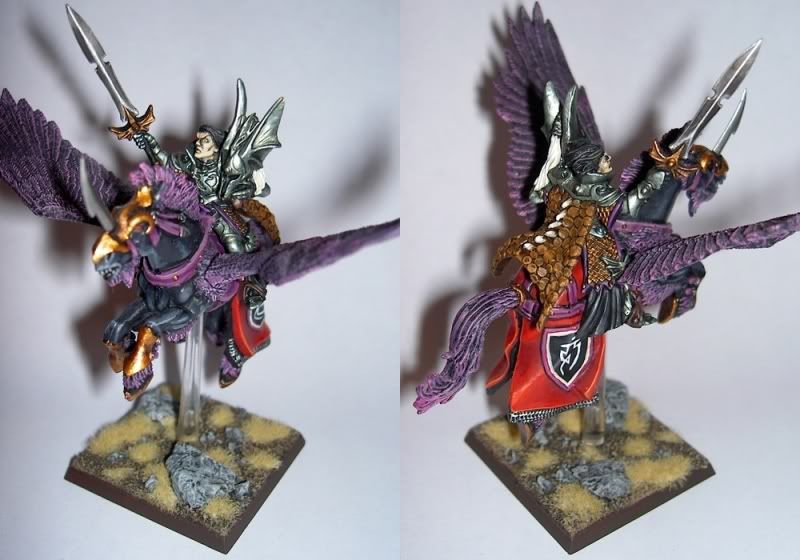 Hydra
Its not the best painted hydra out there i admit, but i found it terribly boring to paint, and just wanted to get done. its drybushed and inked with several shades from bestial brown to iyaden darksun. the "white" is mixed from black, bestial brown and white. it actually looks better in real life. i guess the photo went bananas on the contrast of the white and made it look horrid in the pic
It will not win me any golden daemons but it looks impressive on the battlefield, and they sure kill a lot of people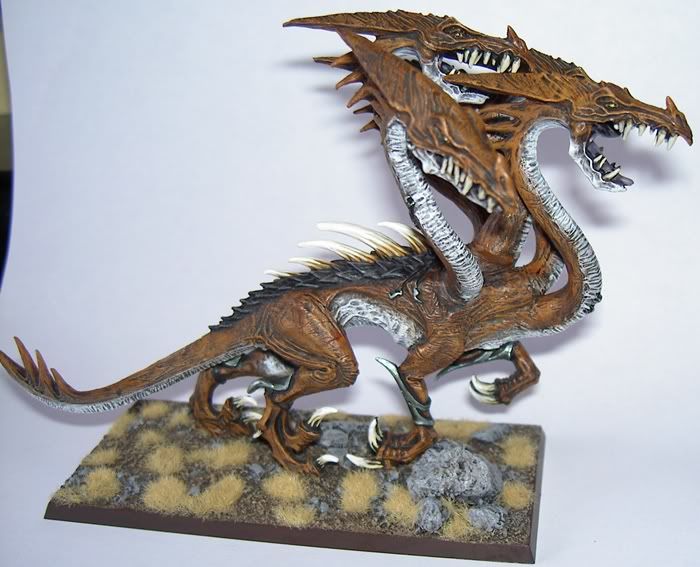 Harpies
Converted from a ghoul and a tyranid gargoyle. Painted red cause i want them to really look like demons summoned by my mighty sorceress. i used this colour scheme on my old harpies too (the normal dark elf ones) ever since those models were released. They really stand out on the battlefield, pulling lots of attention (away from my nastier units
). Again its painted to table top quality, and not more. I can always come back and improve
Sorceress
Here is the newest addition, one of my first dark elf models i ever painted, but with a fresh new hand and coat of paint. its not my best work ever, but i am pretty satisfied with how it turned out. i love the small conversion with the dagger... too bad i promised i wouldnt be using it anymore
I tried a new technique for painting metal (new for me that is) with plenty of brown inks. i really think it makes it come alive a lot more than the more standard "pure silver" you associate with druchii. Also, the highlights are a bit softer than i usually do, and think that worked out pretty well also.
And yes, i know her heavy makeup makes her look like a Russian tranny, but thats all part of these old school models
Warriors with unit filler
Here is the start of my warrior unit. ATM i am using a unit of 40 (so i mix in my old models), but here are the ones i have painted in the new scheme so far. I decided on shortening the spears in general, and painting them in a slightly... orcish way, with black and brown tones, and rough edges. Normally we see druchii weapons like surgical instruments, but i like the more savage feel these spears have. The dreadlord is currently posing as a normal unit champion. i like the model, but i wont be fielding any food dreadlords anytime soon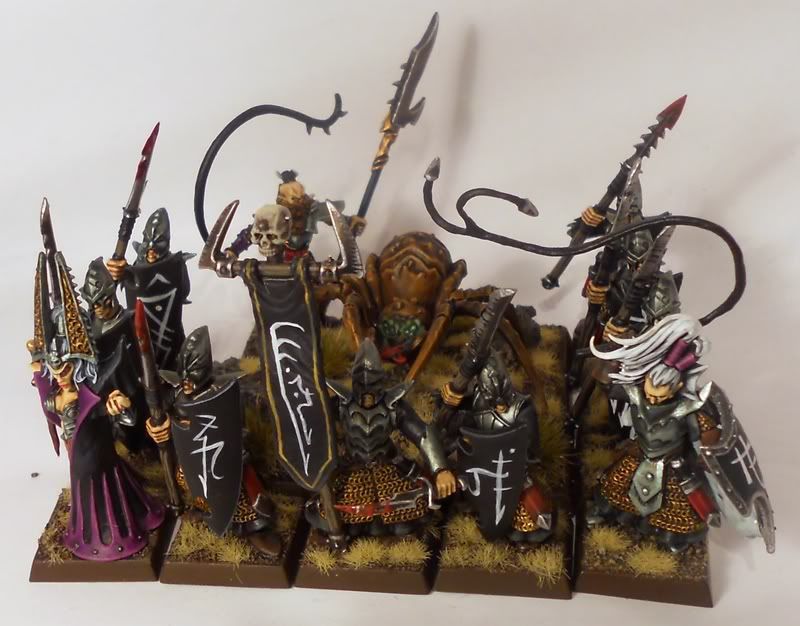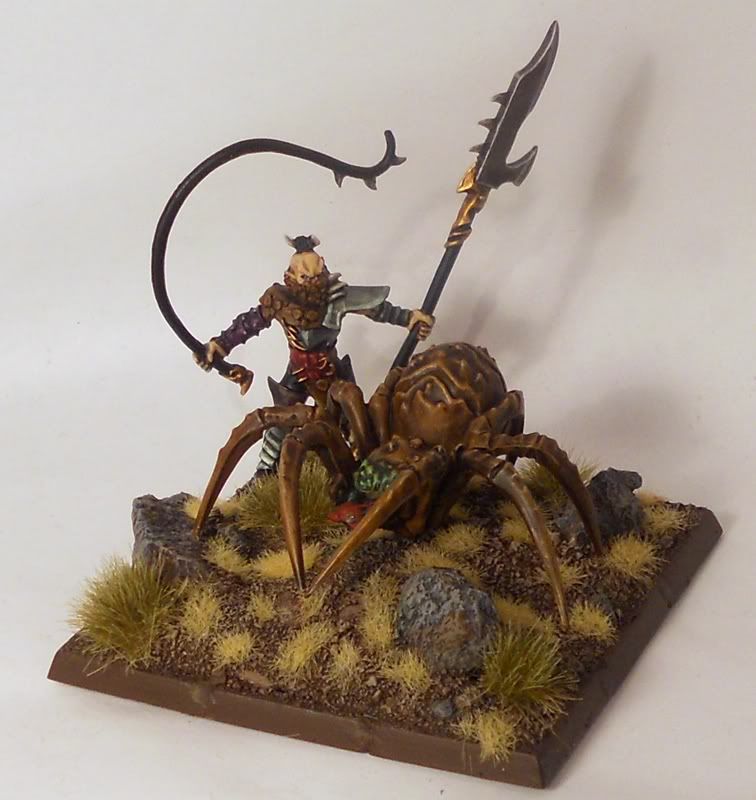 Bolt thrower
Despite it impopularity (or perhaps because of it) i use a single bolt thrower in my 2400p army. It never really impresses, but it is a solid way to spend 100 points. It is more effective point for point than RXB on stuff that are more than 12 inches away an/or has T4 or AS 4+ or better. Against dwarfs it has a high tenancy to be turned in to twigs as soon as the hydra is dead, but who cares?
I chose to paint it the same color as my spears. A greyish brown (based on khemri brown) and a darkish silver/brown tone. I really like it despite it being a bit dull. The crew will liven things up with their fancy armour. I am also trying out a new background for photos. i think i like this one better than my previous white backround...
Here is an updated pic. both crew members were painted, and then i was just going to do the varnishing... and for the first time in over 15 years of painting i managed to take the wrong can and spray black on the finished painted crew. awesome eh?
By house rules we use these oval bases for all war machines in my gaming group. we measure distances and use them for template hits and such. i can really REALLY recommend that, since it makes for much smoother gameplay.
Repeater Archers
I currently use two units of 10 of these guys in my army. It is not too much, but they always seem to preform. With shields they are reasonably good in close combat too, and many a tide of battle has been turned by a surprise charge by 10 of these guys in the flank of an enemy. they never seem to remember that they are even better than warriors in combat (due to the parry save)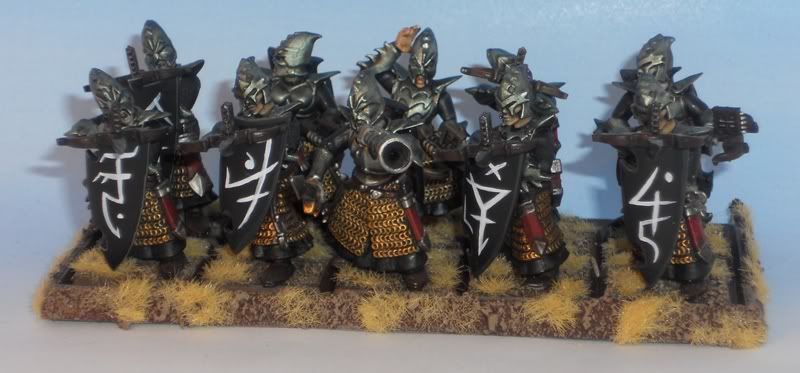 [/u]
Executioners
These are my executioner conversions. i did the first five back in ~2004 and i just finished the last of them. Up until very recently i used a unit of 14 as support, and they can do really nasty things if properly handled. with only the cauldron buff, 14 executioners killed 17 dwarf warriors on the charge. However, against anything that doesnt also strike last i have found them too hard to use (in small units) so atm, they are "count as" BG instead. we shall see how that turns out
The models are made from warriors, with a little shoddy GS work (groin plate, and modified mouth guard on the helmets. No they are not as cool as the normal executioner models, but they are cheap, and they get the job done. Some of them look better than others, and swords from corsairs do look better than warrior spear tips in general. To some one who wishes to try this out herself i would recommend doing a little bot more work on the helmets. I think it would be very cool to use either glade guard heads (with hoods), or CoK heads (more ornate), and as i mentioned, corsair swords, or why not bloodletter swords. however, these all cost money, and therefore counteract the purpose of the conversion: to save cash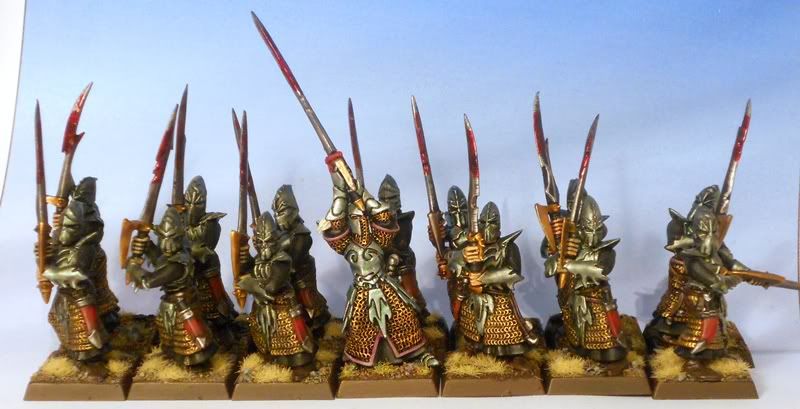 Dark Riders
Next up, the dark riders! I still use one unit in this edition, though i know many prefer shades. In fact ii use one unit of DRs, one of Shades, and two of harpies, and after what must be almost a hundred matches with that setup i still cant find a good reason to switch any of the units for any of the others. they are all excellent
These models are (obviously) made from glade riders. i already had 11 of the old metal models, but when i decided to repaint the army i wanted not to include any of those old elven steeds. the old riders arent too bad, but the horses... And also, as usual i wanted something a bit different. I really like these models, and i think they do look 100% dark elvish. The boring thing is the colors. if you look carefully you can see that two riders have all black cloth while the three others have purple tunics. i painted them one after another, and i didnt try the purple until the third model. i think it helps a bit to liven them up, but they dont do too well with my colorscheme. all the "color" in it is basically in the green/gold contrast in the armour, and these guys have very little of it. i even had to paint their knees gold to get any color at all on them. Well, they are called "dark" riders... The modelling i did was very simple. i cut away the quiver on the cloaks, and instead of doing extensive GS work i simply put a shield over the "scar". yes i know they arent supposed to have shields, but i could argue that these guys dont seem to have much in the way of "light armour" either. Anyway, no one has complained yet, i always state clearly that these guys do not have shields if i am playing some one new. The rest of the "modeling" was just arm swapping, though it requires a bit of GS to make the RXB arms fit to the smaller glade rider bodies.
To liven up the horses a bit i did three special things. first i decided to make them a bit more monstrous by giving them orange eyes with a vertical snakelike pupil. Then i painted their "hooves" as "cloves" instead. Lastly, i did a bit of "doodling" with a black marker on the armourplate. It doesnt look very good when you check up close, cause there was no real plan, just doodling, but at gaming distance it looks like i put extra effort into them
Shades
And for those who liked the wood elf models as dark riders, here is an encore using glade guard as shades. As always, you save a lot of money (assuming you have the corsair weapons just lying around, which i had), especially if you want many of these guys. so far i am using 5, and i am pretty satisfied with that. still its about the same price as buying the metal versions, so any more i make will be pretty much for free
I actually painted these guys a few years ago, before i settled on this scheme. i did some repainting now to fit them in to my current theme, and just as the dark riders they are a bit tricky. Not much armour, so not much metal colors. However, i dont think they look out of place in the army. The paintjob isnt top notch, and it is pretty much only one or two highlights and a wash, but i figured it would take me very little time to incorporate these guys in to my current theme, so i did it. I chose not to put any blood on their weapons, since they are posed for shooting, and wouldnt have reached combat yet.
My lates project (as of this update. Ill most likely forget to change this text when i update next
) Is 25 of the lovely Raging Heroes' Witch Elves. I have only painted one yet, and it takes an awful lot of time, but i am happy with the results. It is really hard to get the makeup job to look like anything else than a transvestite. I want them to have quite a bit of makeup on them, but it is a fine line to walk. I believe that this one is on the right side of the line, but i wouldnt be surprised if i end up with a bunch of shemales in the unit after all is said and done