....
/¨¨¨|
...
|ô/ô 9
..
Real sportsmen hunt with arrows and fish with flies.
...
~~
/|
...
Real gentlemen play games which require skill, not tools.
...
|__/
\
...
Extraordinary gentlemen even win with them.
...
[>o<]
.....
Welcome to the

League of Extraordinary Druchii Gentlemen.
So, with the league formed and ever expanding thanks to the concept of
Lord Tsunami
and to celebrate the start of 2012 we decided to create a stickied thread about the battles, wars and reports of the members of such a league.
But what makes a druchii gentleman so extraordinary? Well... the first rule of The Druchii Gentlemen is 'that there is no...' ah damn, wait no thats the motto for Fight Club. Ah yes thats right, our rules are:
RULE #1: "You may not use a mounted Dreadlord that runs solo with his total points cost being 300 or less, nor may he join a unit of Dark Riders with 9 models or less."

RULE #2: "try as hard as you can to grow a moustache (particularly in November) that rivals that of our group icon and inspiration Hercule Poirot"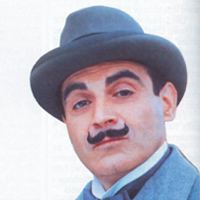 If you wish to read the original thread then the link can be found
HERE
.
So, without further ado - I shall now copy and paste the first report by Ichiyo1821 as found in the original thread:
Ichiyo1821 wrote:Played with just Spearmen, Crossbowmen, Cold One Knights, 1 Hydra, Blackguard and 1 Supreme Sorceress with Dark magic and no Dreadlord or POK against a mean Skaven army and I got pummeled in turn 4 haha.

DE Turn - 1 I killed 1 Warpfire Thrower and flew Harpies next to this HPA.
Skaven T1 -On his turn he 13th Dreaded my Crossbowmen and it goes trough. Kills 16. Both Warp Lightning Canon failed to do anything.

DE Turn 2- My Hydra breathes fire on his HPA followed by 40 RXB shots. I get 8 6's! Dead
Black Horror kills 20 Plague Monks.
Skaven Turn 2 - Wither on COK. 2 Warp Lightning misfires! lucky me!

DE turn 3 - COK and Black Guard front and flanked charged 40+ something Slaves and overruns into his Storm Vermin.
Skaven Turn 3 - His Furnace charges my Spearmen along with Censer Bearers, wipes the. Wither on COK and 13th Dreaded on Blackguard. I dispel 13th but had no DP left for Wither.

DE turn 4 -Black Horror kills more Plague Monks. Hydra flank charges Slaves who are steadfast on 5. He makes it, fckerrrr!Cok whittle down Stormvermin block.
Skaven turn 4- Plague Monks + Furnace charges my COK.

DE turn 5 - COB kills Gutterrunners, Hydra kill Slave unit.Black Guard charges flank of Plague Monks and wipes out unit.
Skaven turn 5- Wither IF on COK + Master. Dead. 13th Dreaded again on Blackguard. 15 die.

By this turn I had a Hydra, Supreme Sorceress and COB BSB and 1 Harpy unit left. He had his 2 Warp lightning Canons, 1 5 Man StormVermin, BSB, Grey Seer, Furnace with no Monks left. Haha I got stomped hard. I conclude that against an army like that I need more hammers! 13th Dreaded and Wither was just unstoppable rolling so many 5's. He was over me by about 500 points or so.

There yah go! No Dreadlord, no POK, no Shadow at 2250. We played Meeting Engagment but without the special deployment rules Lol! We forgot and thus the games was like Pitched battle with only 12 in between. We realized turn 3 but said fcuk it let's continue and just play. Haha I think this was my worst beatdown. Failing to stop the 13th Dreaded against an infantry heavy army is just bonkers plus Wither going off all the time ouch!