Hello all, thanks for checking out my minis. I've been painting on and off again for about 15 years and I've been collecting Dark Elves since around the Nemesis Crown summer event. I've finally started to get some paint on some Druchii and wanted to offer them up for critiques and criticism.
First up is Lokhhir Fellheart. I love the mini and currently use him to sub in for a dismounted Master.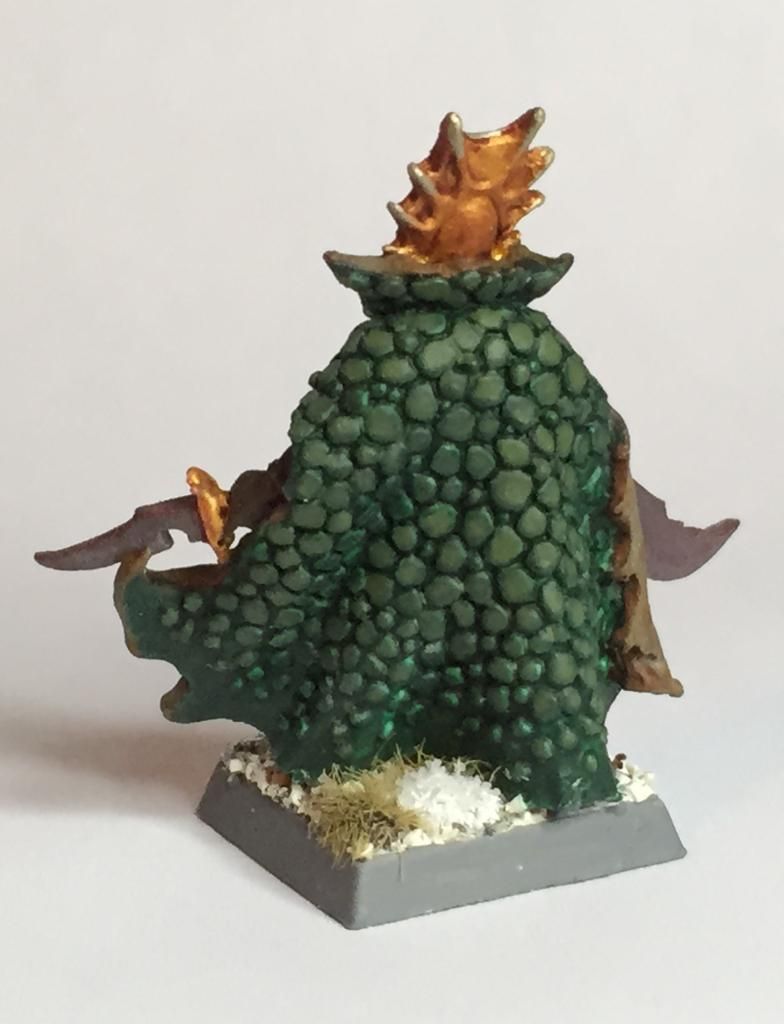 First, please don't mind the stray cat hair that seemed to show up after I took the pic...
This model is the first time I used wet blending to shade/highlight the inside of his cloak and also the first time I used a thinned out glaze to paint The Red Blades. I'm pretty happy with both effects so far. I don't feel like I've quite nailed the back of the sea dragon cloak though. I started with a base of Caliban Green, followed by a shade of Biel-tan Green, and the scales highlighted with Loren Forest. To me it just looks like it needs just a little more "pop".
Next is my Sorceress.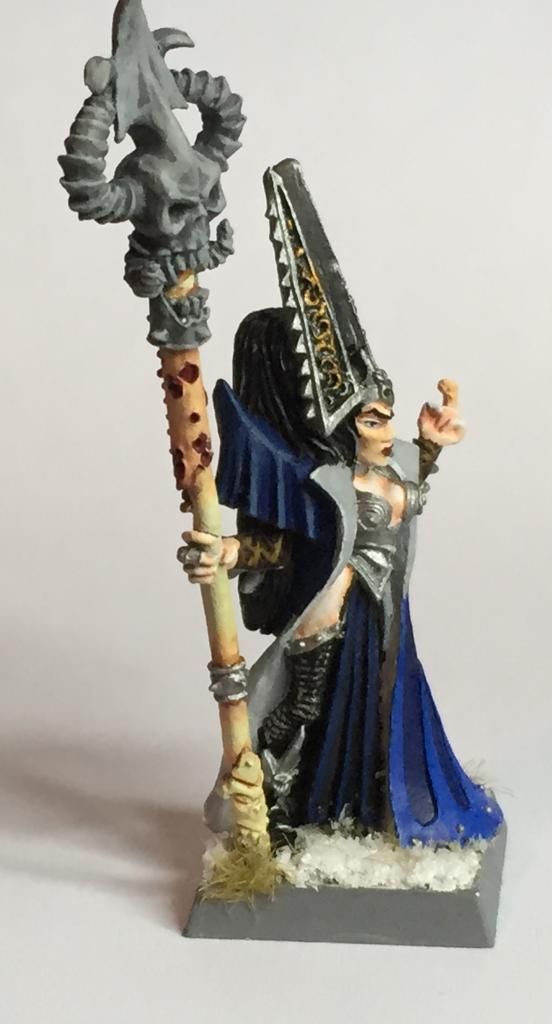 I started with a base coat of Regal Blue and again tried my hand at wet blending by using Midnight Blue to shade from the recesses up. It's a little more noticeable on her shoulders than it is on the front of her robe. I used Shadow Grey as a highlight.
I tried to go with a bone look for her staff body and stone for the head.
These warriors are the first unit I bought and painted. It's also the unit that I learned that trying to paint 25 minis in one go was insanely mind numbing.
This paint scheme is generally the one I used for the Sorceress, with the exception of the metal bits. I picked the command group out in gold. I first saw it featured in one of the last two army books, I can't remember which.
I have the standard modeled so that it look's as if its blowing in a cold, biting wind. I tried to wet blend over it to add depth some depth. As you can guess it wasn't photo worthy just yet. I used a transfer on one side of the banner and free handed a simple design on the other.
I'm pretty pleased with how the shields turned out; particularly the stone looking skulls. I'm sure they'd be ridiculously heavy in real life, but still awesome to look at lol.
I first read about these Dark Rider conversions online a few years ago. Since I had extra torsos laying around I decided to give them a try. I made a sad attempt at covering one of the cloaks with green stuff. I'll have to play around with it some more on a scrap mini to get used to it and making it do what I want.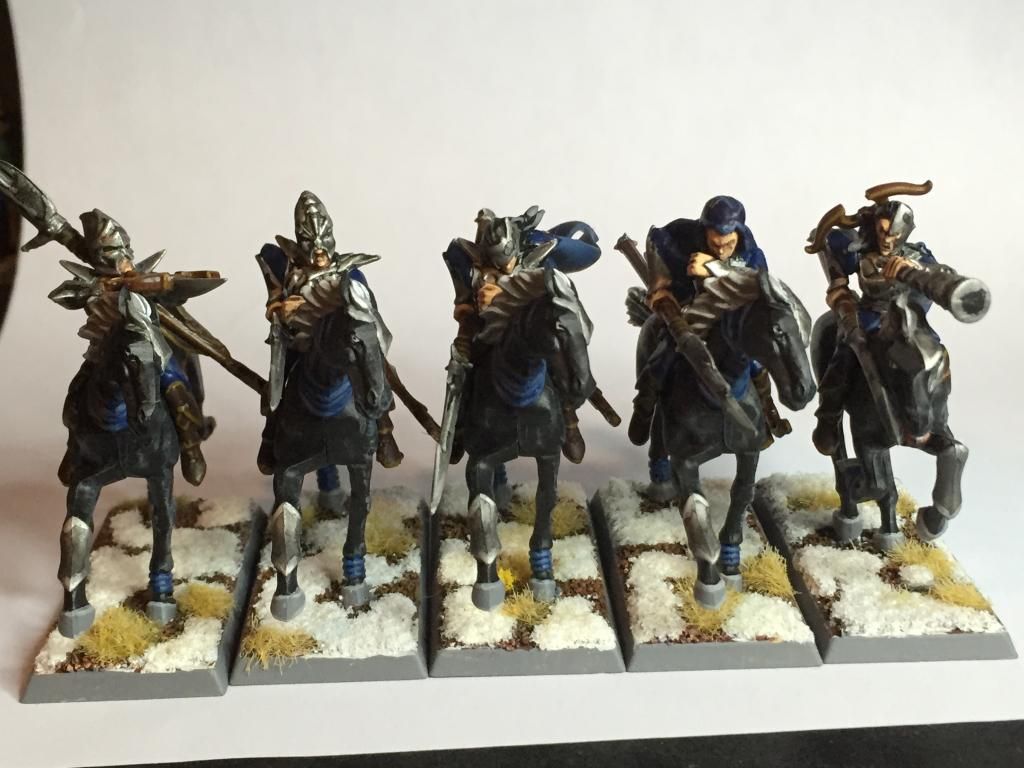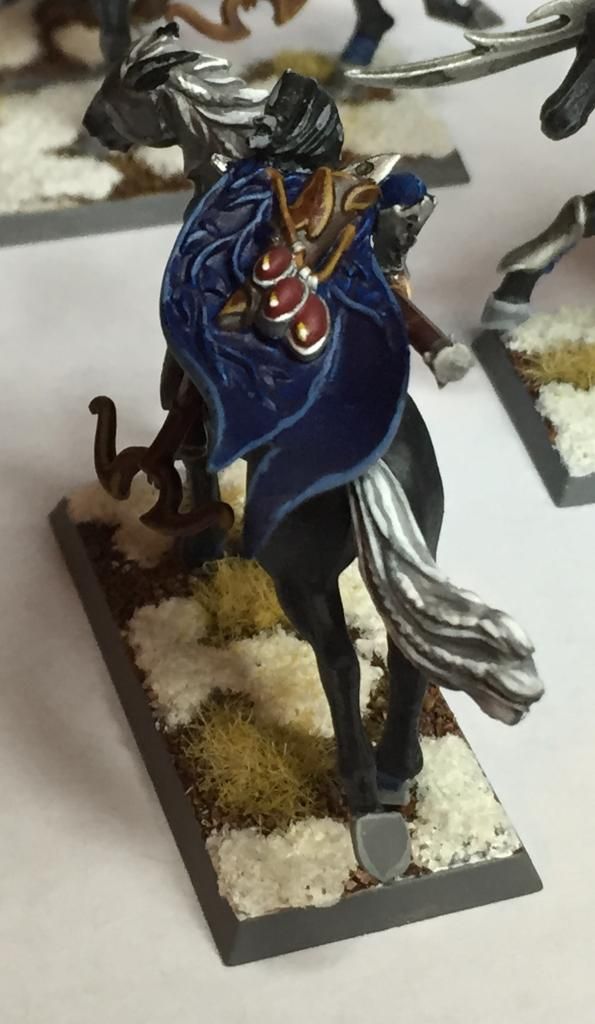 I used Regal Blue for the body and Midnight Blue for the cloaks. It looks like two of the model's black wash pooled and dried funny on the horse face plates. I'll need to work on brush control next time and make sure its properly thinned out. I also need to figure out the best way to highlight black, especially when it comes to hair.
I still need to paint up shields for them. They will most likely be the old style warrior shield but with free handed designs on them.
The Reaper Bolt Thrower. I still have another to paint, this one acted as my "test model". I love how the crew turned out.
Finally (for now), is my current work in progress. Cold One Knights. This will be a unit of ten but only the first five Knights are painted so far.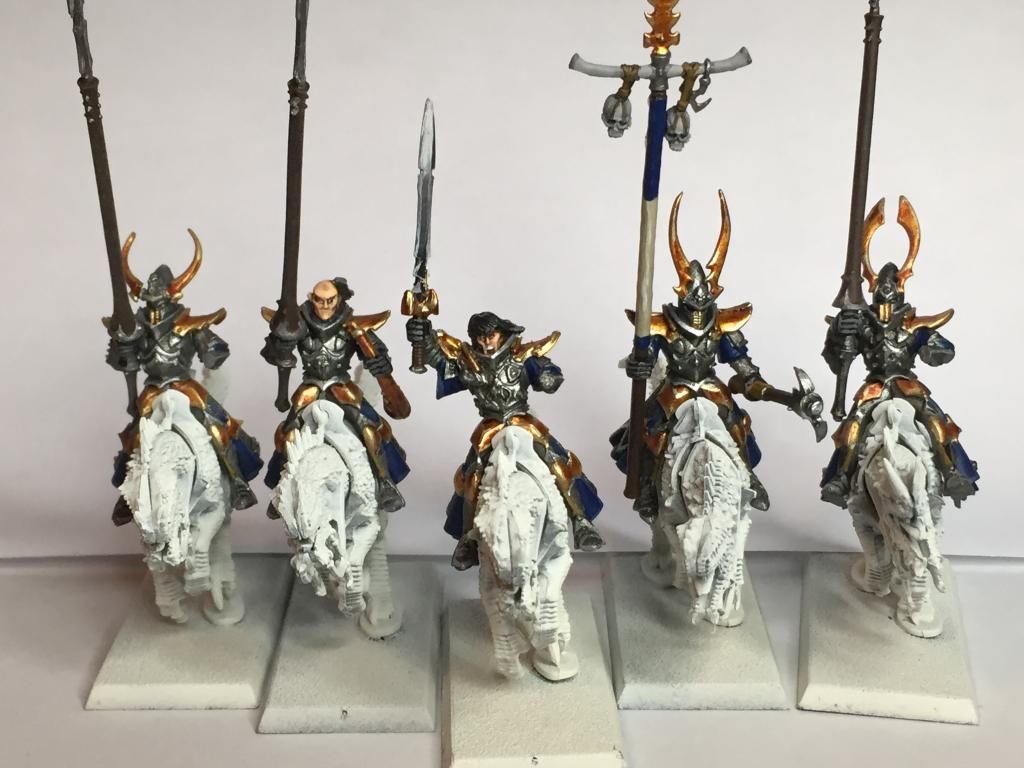 The Dread Knight is my first attempt at using NMM. I love these models and wanted to use different techniques on them to make them stand apart from other models on the table. While I think I have the gist of the technique, the execution is shaky. I'd be interested in pointers if anyone has any.
The standard caused me some serious grief. While it's not that large compared to the Corsair standard, it is still the largest standard I've painted yet and I was under my self imposed stress to make it look presentable. I flipped through the army book (pg 71) for some inspiration and came up with the two color diagonal design. I wasn't confident in my free hand to paint something exotic on the standard so I used the transfer rune that would starkly contrast with my color scheme and a smaller white rune (barely visible behind his head) for a little more pop.
Again, thanks for looking and I hope to have more updates soon. Please feel free to provide any critiques or insight, it's the only way I'll get better!