After a very long time away from the hobby (2+ years now
) I've decided to jump back in with the mighty Dark Elves. In the past I've been a staunch Ogre and Empire player but I was looking for a fresh and exciting army to get back into the game with and what better choice than Khaines chosen!
As I'm getting back into the hobby I thought it would be a good idea to go slowly with my new army so that I don't overwhelm myself with shelves of unpainted Elves. Therefore I will only buy new models once I have completely finished painting what I have brought previously! With Christmas imminent this might be tough!! My painting skills are also a bit rusty and sometimes my painting motivation can wane so what better idea than to join this great community and document my progress!
Anyway on with the show!
My first lot of models: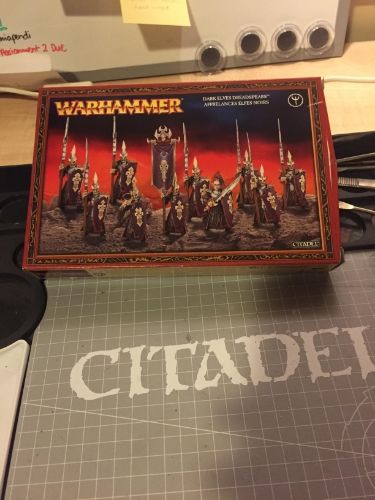 I really loved the sculpts on these models, for a basic core troop the detail is outstanding and the best bit is there wasn't a whole lot of cleaning up that needed to be done! I decided to build these ten as Darkshards with a musician and a champion. I envisage my completed force having lots of Darkshards so what better place to start.
Now the big one, my first (semi completed) model in 2 years! I've gone down the traditional route for the scheme but I am certainly considering trying something else on a different model. Here it is, at tabletop standard:
Please excuse the average iPhone pictures they're the best I can do at the moment!
I am very interested in any feedback you guys might have on the paint job and anything I could improve! I'm very excited at the prospect of slowy building up a Dark Elf army and I'm looking forward to documenting my progress for you all!
Jump in with any comments or tips!